UPDATED 23/08/21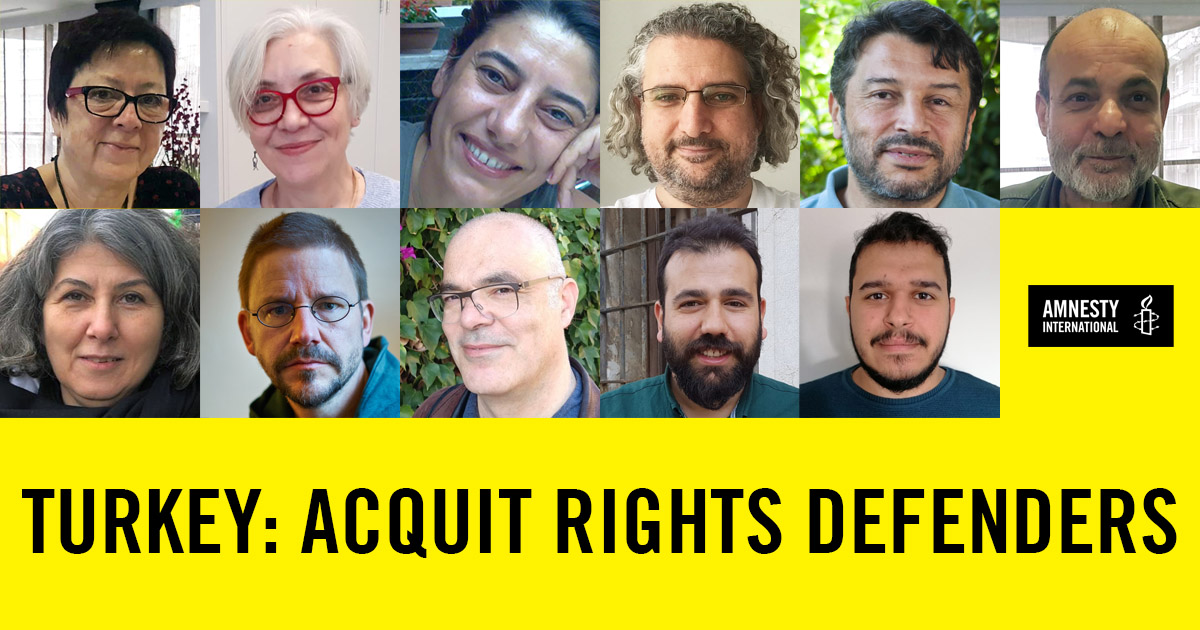 Summary
Four human rights defenders, including two former Amnesty Turkey leaders, have spent nearly four years fighting fabricated "terrorism" charges in Turkey and could face up to 15 years behind bars if found guilty. The charges against them have been repeatedly and categorically disproven, including by the state's own evidence. 
The prosecution's attempt to present legitimate human rights activities as unlawful acts have comprehensively failed. The trials are taking place in the backdrop of the wider use of anti-terrorism legislation in Turkey aimed at limiting activities sanctioned as protected by international human rights laws. These unfair practices have targeted journalists, politicians, activists, social media users and human rights defenders across the country.
Özlem Dalkıran, a human rights defender, said:
"Trying to silence human rights defenders through judicial harassment never works anywhere in the world. Because we are right, not them! We have massive resilience that is powered by our struggle to defend justice and the rights of everyone and everything that we share this planet with."
What happened?
Taner Kılıç, then chair of Amnesty Turkey, was arrested on 6 June 2017. Three days later he was jailed on charges of being a member of what the government call the 'Fethullah Gülen Terrorist Organisation'. Without any evidence, the authorities claimed that Taner had downloaded a messaging app the government says was used by the group to communicate. He is not a member of this organisation and never downloaded the app in question.
Then on 5 July İdil Esser – the then director of Amnesty Turkey – and nine other human rights defenders were arrested at a hotel where they were on a workshop for well-being and digital security. The authorities accused them of taking part in a secret meeting. Eight of the ten defenders were jailed on the basis of these allegations.
İdil Eser, Günal Kurşun, Özlem Dalkıran, Veli Acu, Ali Gharavi, Peter Steudtner, Nalan Erkem and İlknur Üstün spent 99 days in pre-trial detention before they were released on bail in October 2017. Taner spent 432 days in jail before being released on bail in November 2019.
The trial was then postponed several times for several reasons until finally a verdict was given on 3 July 2020. An appeal brought by Taner, Idil, Günal and Özlem was rejected in November 2020 without reason. 
In March this year, a prosecutor from Turkey's Court of Cassation asked for İdil, Günal and Özlem's convictions to be overturned, but for Taner's to be upheld. Once again, no explanation was provided for this request.   
The convictions of the four are currently still pending during the second and final stage of their appeal in the Court of Cassation. We expect a verdict over the coming months. 
What will happen next?
None of the four who were convicted have been detained, but they have all been convicted and face prison time. They are currently at the final stage of their appeal.  We will be supporting them all every step of the way throughout the appeal process. We will update this page with what you can do next to help.