Why I'm volunteering for Amnesty at the Edinburgh Festival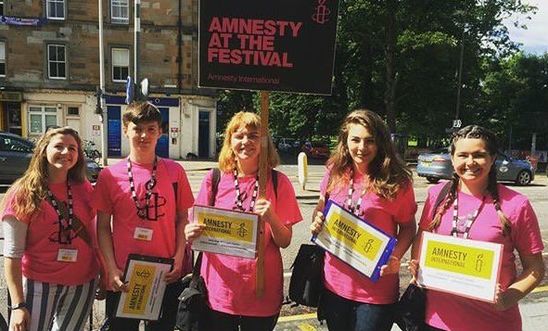 Rona (R) and her fellow FestiVols
Guest blog from Amnesty FestiVol Rona MacNicol:
As a fulltime student and with a part time job, it is often challenging to immerse and involve myself with the organisations I admire most. I often find myself researching the work of wonderful organisations like Amnesty whilst simultaneously struggling to find any time at all to contribute and lend a helping hand. 
Thankfully, summer provides a, much-needed relief from the grind of academia and so when I learned that Amnesty were seeking FestiVols, I leapt at the opportunity to campaign during this year's Edinburgh Fringe & International Festival. 
Having previously worked the Edinburgh Fringe, I was anticipating of the massive population increase and 'internationalisation' that was in store for the city.  I saw the huge potential this posed for Amnesty International to engage with hugely diverse sections of the global population and I was instantly keen to use my spare time to spark activism among members of the public.
I have always been deeply concerned by issues of injustice, exclusion, and right's protection. Over the years this has spanned across local, national and international issues. Above all else, I am seriously committed to ensuring that as many people as possible are elevated into a position whereby they can live, speak and move freely, without fear and without oppression.
This year's FestiVol campaign is centered around two of Amnesty's Prisoners of Conscience - Nazanin Zaghari-Ratcliffe and Kamal Foroughi. Although each of these cases is entirely unique, they are connected both by geography (both imprisonments are in Iran) and by the fact that these two British-Iranian dual nationals are suffering rights' infringement whilst being held captive.
Nazanin and Kamal are human beings like myself, like all of us.  Whilst their cases are by no means the extent of rights' infringement worldwide (in fact, they are unfortunately the 'tip of the ice berg'), their cases as individuals are equally important. In a world where almost everything is Globally reaching, so too should the basic rights that protect and activate our freedoms have an international expanse.
For this reason, I will spend the month of August trying to reach as many members of the Edinburgh Fringe audience as possible, explaining the stories of Kamal and Nazanin and explaining why it is vital that Amnesty gather clout and people-power in the form of petitioning.
The Edinburgh Fringe is an amazing, positive, creative, united atmosphere and I hope to harness these qualities and channel them into support for Nazanin, Kamal, and raised awareness for worldwide rights protection!
You too can take action to ask your MP to raise Nazanin and Kamal's cases in Parliament. 
About Amnesty UK Blogs
Our blogs are written by Amnesty International staff, volunteers and other interested individuals, to encourage debate around human rights issues. They do not necessarily represent the views of Amnesty International.
View latest posts