New call for release of British charity worker Nazanin Zaghari-Ratcliffe ahead of anniversary of arrest in Iran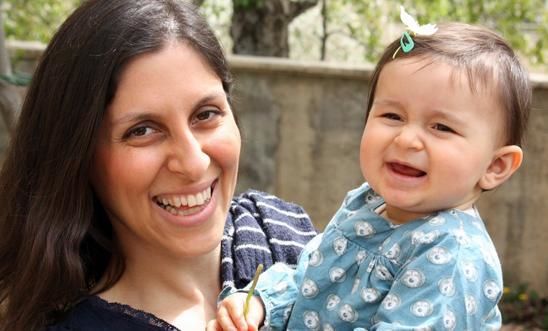 Nazanin Zaghari-Ratcliffe was arrested on 3 April 2016 while visiting Iran with her infant daughter Gabriella © Private
Appeal comes during Iranian New Year season, a traditional time for prisoner releases
Ahead of the one-year point (Monday 3 April) since the 38-year-old British charity worker Nazanin Zaghari-Ratcliffe was arrested during a family visit to Iran last year, Amnesty International UK Individuals at Risk Campaigner Kathy Voss said:
"We sincerely hope the Iranian authorities listen to appeals for Nazanin's release this Nowruz season.

"The Iranian tradition of releasing prisoners during Iranian New Year has in the past led to some very welcome turnarounds in cases we'd campaigned on for a long time.

"Nazanin is by no means the only prisoner of conscience in Iran who should be released this Nowruz - but if she's set free and allowed to return to her family in the UK in the coming days, it will be a small but hugely valuable victory for human rights in Iran."
Ms Zaghari-Ratcliffe, a dual UK-Iranian national, was arrested at Tehran airport on 3 April 2016 prior to boarding a plane back to the UK after a regular family visit to the country. After being detained for over five months, initially in solitary confinement for more than month, Zaghari-Ratcliffe was sentenced to five years in prison in September after being convicted of "membership of an illegal group" in an unfair trial by a Revolutionary Court. Amnesty has designated her a prisoner of conscience and has called on the Iranian authorities to release her immediately.
Zaghari-Ratcliffe, who is currently held in Tehran's notorious Evin Prison, is suffering with numerous health conditions - including severe arm, neck and back pain - and there have also been serious concerns over her mental state.
'One Day' yellow ribbon events
Ahead of the one-year point since her arrest, Zaghari-Ratcliffe's husband Richard and various supporters are taking part in events to mark the occasion and repeat their calls for her release. On Sunday 2 April, they are taking part in a "One Day" yellow ribbon event in Fortune Green park in north-west London (West Hampstead), near Zaghari-Ratcliffe's family home. Supporters are being asked to send in ideas of what they would do with "one day of freedom", with written suggestions being hung on a "One Day" tree in the park (for more information, go here). Amnesty activists will be doing their own "One Day" tree for Nazanin and other prisoners in Evin at the organisation's National Conference meeting in Nottingham next weekend.