British-Iranian grandfather denied medical treatment in prison in Iran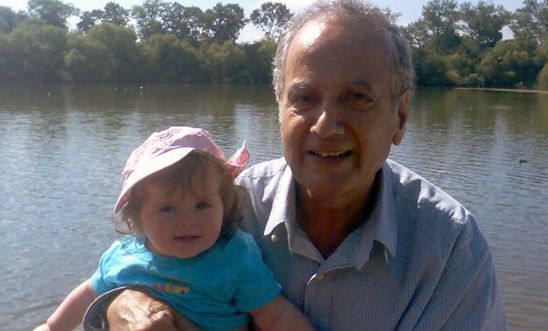 Kamal Foroughi and his granddaughter © Private
Kamal Foroughi is a 76-year-old British-Iranian man serving an eight-year prison sentence in Evin prison, Tehran, for charges of espionage and alcohol possession. He was arrested in 2011 and kept in solitary confinement before being convicted at an unfair trial of charges he did not know about until the day before the court hearing.
Kamal has already served more than five years of his sentence, and is suffering from medical complaints – yet the prison authorities are denying him access to the medical treatment he needs.
Iranian officials have barred Kamal from legal advice and contact with his family at various points throughout his five-year incarceration.
We're calling on the authorities to give Kamal any treatment he needs. We're also asking them to make sure he has all of his legal rights, including the support of the British Embassy in Tehran.
The campaign for justice
Kamal's son Kamran Foroughi wants Iran to release his elderly father from prison. #kamalforoughi pic.twitter.com/BtfCGiYihZ

— Amnesty UK (@AmnestyUK) May 5, 2016
Kamal's son, Kamran, has led a campaign for justice for his father from the UK.
'He has often been told he has a good chance of release 'next week' or 'next month' and yet that day never seems to come. I'm sure this constant oscillation between hope and despair is damaging his health. It's certainly painful for the rest of his family.'
Kamran Foroughi
We've joined Kamran in campaigning for Kamal to get medical treatment and access to his legal rights.
31,055 people signed our petition in the UK, adding their names to support our campaign.
At Iranian Embassy London handing in 31k petition sigs calling for medical care for 'Grandpa Kamal' #KamalForoughi pic.twitter.com/xKw2wHPl6r

— Amnesty UK (@AmnestyUK) May 5, 2016
In May, we handed in those signatures to the Iranian Embassy in London. For the first time since the Embassy reopened last year, they accepted our petition delivery!
Calling for justice for #KamalForoughi at Iranian Embassy London now. Thanks to 31k of you who signed our petition. pic.twitter.com/hkMZ2LwIUJ

— Amnesty UK (@AmnestyUK) May 5, 2016
The back story: arrested for 'espionage'
Kamal Foroughi was working as a consultant for oil and gas company Petronas when he was arrested by men in plain clothes on 5 May 2011. The men didn't explain why he was being arrested or show him an arrest warrant.
The plain clothes police officers took Kamal to Evin prison in Tehran, where he was kept in solitary confinement for periods of time, and not allowed to contact his family or a lawyer.
Kamal was not dealt any criminal charges at all until a year later. When he was eventually charged, he was not told the reason for his detention or what the charges against him actually were.
Kamal was eventually allowed to see a lawyer the day before his court hearing in early 2013. He was later convicted on charges of espionage and possessing alcoholic beverages – resulting in an eight-year prison sentence.
Limited legal and family contact in prison
Kamal was denied access to a lawyer from the moment he was arrested until the day before his trial. Now, in prison, he has only very limited access to a lawyer. He has not been allowed British consular assistance.
For over a year, between October 2013 and early May 2014, he was prevented from communicating with anyone outside the prison. 
Even now, he's not allowed to write or receive letters from people outside Iran – including his wife, two children and grandchildren, who all live in England.  
Kamal is permitted regular phone calls but he has to talk in Persian, which family members in the UK do not speak well, making it difficult for them to communicate with him.
Health at risk
Before his arrest, Kamal was told that he was at increased risk of cancer and was advised by doctors to have regular specialised medical tests.
In November he was finally given some medical tests but the outcome of these tests haven't been shared with Kamal or his family.
What we're calling for
We're asking the Leader of Iran, the Head of the Iranian Judiciary and the President of Iran to:
Allow Kamal any specialised medical care he may require
Give him access to his own medical records
Apply without discrimination Article 58 of the Islamic Penal Code, which allows for his conditional release after serving a third of his prison sentence
Ensure Kamal has regular access to a lawyer of his choice
Allow him to be in contact with his family – including relatives abroad
Allow him to communicate with British consular officials.