Pride is a party, but it is also a protest.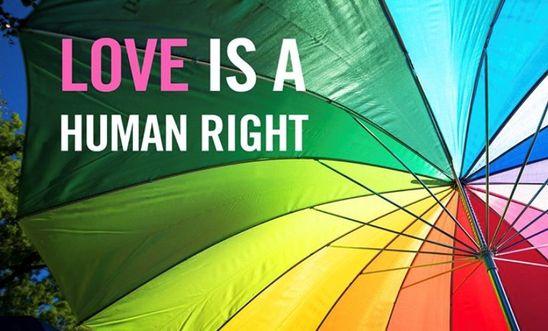 Gabriel Calvert, member of the Amnesty Dundee group, Football Welcomes volunteer, and all round excellent activist wrote this guest blog post about the recent Trans Pride march in Dundee. 
At the end of March, Dundee played host to the second annual Trans Pride Scotland. Pride is a place of welcome, support and solidarity where people can be free to be themselves without fear of discrimination. It is somewhere we can celebrate diversity, learn from one another and have sometimes challenging conversations about how to progress rights for Trans people across the world. Pride is a party, but it is also a protest.
The day started with a march from the McManus Gallery to the Bonar Hall. Luckily, the sun beamed down upon us as we gathered, flags representing a multitude of genders flying across Albert Square. The fantastic SheBooms Drummers led the march, their rhythms generating a carnival atmosphere as we marched through the city. Supportive people lined the streets looking on as the festival of colour and noise passed them by.
At the Bonar Hall there were stalls from many allied organisations, including Amnesty International, and a programme of workshops from trans groups and mental health organisations were offered for all. Alongside this there were performances from trans acts ranging from biting poetry to celebratory music.
Amnesty has campaigned on behalf of trans people across the world, including calling for an end to forced sterilisation of trans people in Finland; fighting for the rights of trans asylum seekers in the USA, and demanding the end to the treatment of trans identities as mental health disorders. Our main focus for the day was discussing Amnesty Scotland's response to the recent consultation on the Gender Recognition Act. It is vital at this time we keep pressure on the Scottish Government and the UK Government to remove unnecessary barriers for people in the process of transitioning, remove the need for a diagnosis and provide more dignity throughout. You can read our response to the consultation here:
https://www.amnesty.org.uk/resources/response-scottish-government-review-gender-recognition-act
You can show your support by joining Amnesty's volunteer Rainbow network participating in Prides across the UK and campaigning for LGBTI people everywhere https://www.amnesty.org.uk/join-lgbti-activist-network 
The thing that struck me most throughout the day was the fact that everybody was able to be themselves and have fun without fear in an inclusive and vibrant atmosphere. Every welcoming event, every legal victory, and every person willing to learn and become an ally is a step towards a world where people can live like this everyday.
About Amnesty UK Blogs
Our blogs are written by Amnesty International staff, volunteers and other interested individuals, to encourage debate around human rights issues. They do not necessarily represent the views of Amnesty International.
View latest posts