Why IDAHOBIT is important to me and the LGBTI+ community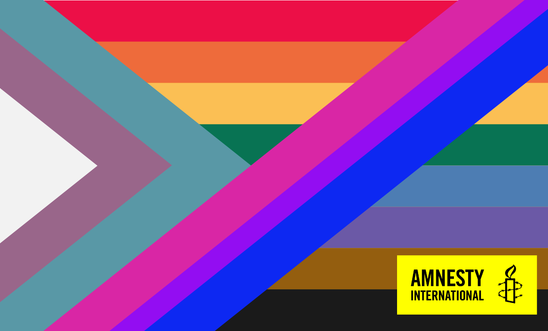 By Maria Munir and the Amnesty Rainbow Network
IDAHOBIT – or International Day Against Homophobia, Biophobia, Intersexism and Transphobia – marks our global commitment to reducing inequality for LGBTI+ people. No matter where we are in the world, we deserve to be treated equally, fairly, and with dignity. Whilst being based in the UK, the Amnesty Rainbow Network recognise the multiple barriers that still exist in this country for our community, despite some positive reforms of legislation such as abolishing Section 28.
Whilst Section 28 may be gone, there is so much more that we must all learn from each other about how we navigate the world. The term 'intersectionality' was coined by Kimberlé Crenshaw in 1989 as an analytical framework for understanding how systems of power and privilege affect marginalised identities, and how those identities interact with each other when facing discrimination. It was originally discussed in relation to black women in the United States but has since become popularised as a way of understanding how people can experience oppression differently depending on the multiple social categories they belong to. Some of these include class, race, ethnicity, wealth, gender, disability, sexuality, and faith.
We recognise that many conversations about IDAHOBIT often revolve around white, cis experiences. There's still more to be done, and more voices to be heard. That's why we've decided to spotlight three fantastic campaigners who advocate for some of the lesser-represented communities within LGBTI+ spaces in the UK, and we asked them why IDAHOBIT is important to them and the LGBTI+ community.
About Amnesty UK Blogs
Our blogs are written by Amnesty International staff, volunteers and other interested individuals, to encourage debate around human rights issues. They do not necessarily represent the views of Amnesty International.
View latest posts