IDAHOBIT Spotlight: Phyll Opoku-Gyimah, Founder of UK Black Pride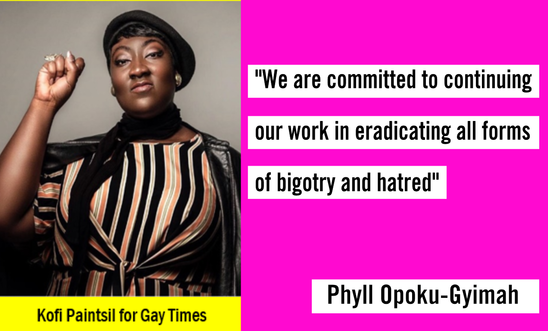 Phyll Opoku-Gyimah, Founder of UK Black Pride
Pronouns: She/her
So much of the work we do at UK Black Pride is about ensuring the unique and specific experiences of queer people of colour are acknowledged, amplified and understood.
We represent and advocate for such an incredibly diverse group of people, from a range of diasporas, and the particular way that homophobia, transphobia and other forms of bigotry intersect with racism means days like this give us an opportunity to highlight that our experiences as queer people of colour can often leave us vulnerable, misunderstood and isolated.
We use this day, and every day, to reiterate that we stand in service of our community and that we are committed to continuing our work in eradicating all forms of bigotry and hatred so that our communities can live and thrive in a world that appreciates them for the beautiful and worthy human beings they are.
About Amnesty UK Blogs
Our blogs are written by Amnesty International staff, volunteers and other interested individuals, to encourage debate around human rights issues. They do not necessarily represent the views of Amnesty International.
View latest posts