IDAHOBIT Spotlight: Khakan Qureshi, Activist and co-organiser of LGBTIQ+ Intersectionality and Islam Conference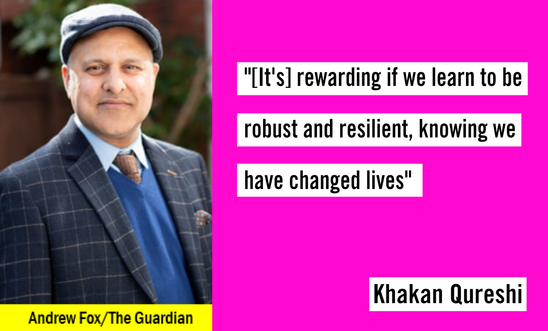 Khakan Qureshi, Activist and co-organiser of LGBTIQ+ Intersectionality and Islam Conference, Pronouns: He/him
IDAHOBIT is important to me for a variety of reasons. 
But the last few months, I feel, encapsulate why we need IDAHOBIT. 
In February 2019, I organised the first LGBTIQ+ Intersectionality and Islam conference, hoping to inspire and empower LGBTIQ+ Muslims to accept themselves and, in one way or another, to create an environment for open dialogue in the community. At the same time, the Parkfield protests were simmering, and I became implicitly involved in the controversy, because I dared to - as a gay Muslim - voice my support to the teachers and the school involved. 
It's made me realise that, no matter how much we strive to move forward, there are those individuals within the community who will try and disrupt the achievements of LGBT-related legislation.  At the school gates of Primary schools, there are people who are protesting about so called "LGBT lessons". 
Who says we have equality?
We have so much work to do, it's tiring trying to validate our existence. But at the same time, rewarding if we learn to be robust and resilient, knowing we have changed lives, and encouraging dialogue against homophobia, biphobia and transphobia can only make it better, not just for us, but the next LGBTIQ+ generation.
About Amnesty UK Blogs
Our blogs are written by Amnesty International staff, volunteers and other interested individuals, to encourage debate around human rights issues. They do not necessarily represent the views of Amnesty International.
View latest posts