Australia's shame - why Europe must not follow its hard-hearted policies on refugees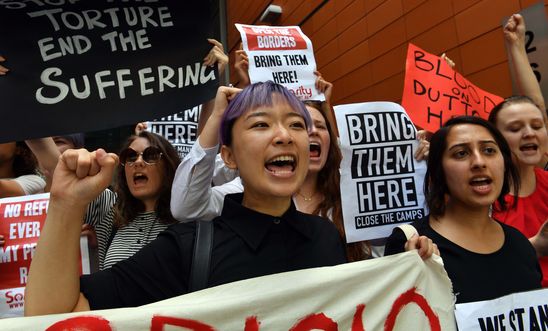 Refugee advocates protest the conditions on Manus Island and Naura, at the Australian Immigration and Department of Foreign Affairs and Trade building in Sydney in 2017. © © SAEED KHAN/AFP/Getty Images
By Claire Mallinson, Director of Amnesty Australia
Naru, an island of despair
The Australian government's offshore processing system for refugees and asylum-seekers on Nauru and Manus Island is harsh and cruel.
Our report on Nauru, Island of Despair, reveals an epidemic of depression and suicide attempts among those forced to live there. The government of Nauru doesn't deny it. The government simply says that conditions must be tough and unpleasant to deter others from trying to get to Australia – a blatant denial of refugees' human rights under UN conventions.
Corporations profit from suffering
Our report Treasure I$land shows how corporations profit from this suffering, thanks to Australian government outsourcing.
The leading Nauru contractor is Broadspectrum, a subsidiary of Spanish multinational Ferrovial, which holds a 25% stake in the company managing Heathrow Airport.
Contracts are lucrative. Broadspectrum alone totals £1.5bn over three-and-a-half years. Ferrovial says it will not bid for further work on Nauru and Manus after its contract ends in October. But Amnesty International has a clear message for any companies involved – you cannot conceal the abuses on Nauru and Manus. They will taint you and undermine your global business interests.
For more than a decade people fleeing war and persecution have attempted to seek safety in Australia from Afghanistan, Iran, Iraq, Somalia, Sri Lanka, Sudan and other places. The final stage is by boat – and it is in the Indian Ocean that they come up against the hard-hearted policies of the Australian government, which punish some of the world's most vulnerable people in order to deter others.
Australia's heartless 'no entry by boat rule'
It's worth studying how Australian governments of both main parties have handled the refugee crisis, because it's a lesson in how not to do it. With European nations increasingly turning to punitive deterrence policies, understanding where Australia has gone wrong becomes increasingly urgent. The central planks of Australian policy are offshore processing and the 'no entry by boat' rule.
In the run-up to the 2001 election the then Liberal (conservative) party prime minister, John Howard, seeking to look 'tough', refused to allow a Norwegian freighter, MV Tampa, to enter Australian waters. The Tampa had rescued 438 people seeking asylum, mostly Afghan Hazaras, from a distressed fishing vessel. When the freighter failed to turn back it was boarded by special forces.
Those on board were taken to the small Pacific island nation of Nauru, more than 3,000km from Australia, and to Papua New Guinea's Manus island, to have their refugee
status considered – launching what Howard called 'the Pacific Solution'.
The government also introduced 'Operation Resolute' under which boats with refugees on board that refused to turn back were towed to Indonesia.
Six years on, in December 2007, newly-elected Labor prime minister Kevin Rudd ended the 'Pacific Solution'. But the policy was reintroduced in August 2012.
A human rights catastrophe
In November 2012 a team from Amnesty Australia visited the camp at Nauru. What they saw was 'a human rights catastrophe ... a toxic mix of uncertainty, unlawful detention and inhumane conditions'.
Last July, when Anna Neistat, our global head of research, visited Nauru, little had changed. The regime of cruelty is designed to deliberately inflict as much suffering as necessary to stop others trying to find safety in Australia.
In Australia detention also remains an issue and as of November 2016 there were 1,414 people in immigration detention centres, the majority men, with 97 women and five children remaining.
People who arrived in Australia without a valid visa, between August 2012 and July 2013, and are found to be refugees now receive 'temporary protection visas'. As the name suggests, it allows only temporary residence, renewed every three years, with no family reunion.
Slight progress made
Despite all these attempts to keep people seeking Australia's protection out, we've made progress. Most of the refugees detained on Manus and Nauru at the time of the first 'Pacific Solution' were eventually settled in Australia.
In 2015, the Australian government agreed to settle an additional 12,000 Syrian and Iraqi refugees – 8,400 of whom have now arrived.
We still face setbacks and challenges. The government insists that offshore processing, combined with turnbacks, temporary protection visas and mandatory detention are crucial to maintain 'strong borders'.
The Manus and Nauru detention centres are still open, holding approximately 900 and 380 people respectively. Forty-four of these are children. An additional approximately 800 women, men and children are housed in the community on Nauru in what is effectively community detention.
The UK government must do more
We must ensure that the British and other European governments don't replicate Australian practice. By campaigning on the issue and educating governments and media, Amnesty International UK can do a lot to help prevent the export of Australia's abusive treatment of refugees.
This article first appeared in the Summer 2017 edition of Amnesty Magazine
About Amnesty UK Blogs
Our blogs are written by Amnesty International staff, volunteers and other interested individuals, to encourage debate around human rights issues. They do not necessarily represent the views of Amnesty International.
View latest posts