Join London demo: free Liu Xiaobo & all other PoC, solidarity with HK universal suffrage 倫敦七一抗議:自由劉曉波等所有良心犯,聲援香港真普選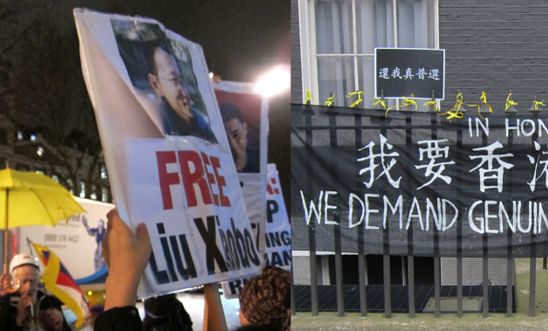 A demonstration to call for immediate and unconditional release of the Nobel laureate Liu Xiaobo and all other prisoners of conscience currently held in China; a solidarity action with the struggle for universal suffrage in Hong Kong.
Venue: opposite the Chinese Embassy, 49-59 Portland Place, London W1B 1JL
Nearest tubes: Great Portland Street, Oxford Circus
Date: Saturday 1 July 2017, 12 pm – 2 pm
More: https://www.amnesty.org.uk/blogs/countdown-china/liu-xiaobo-torture-and…
About Amnesty UK Blogs
Our blogs are written by Amnesty International staff, volunteers and other interested individuals, to encourage debate around human rights issues. They do not necessarily represent the views of Amnesty International.
View latest posts