There's no better time for a ceasefire protest than Armistice Day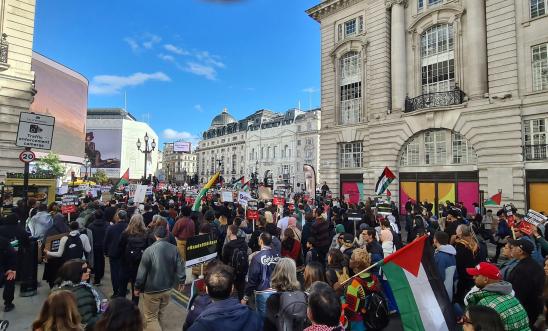 © Photo by Austin Crick
Blog written by Sacha Deshmukh, Amnesty International UK's Chief Executive:
In the past week, the right to peaceful protest has made front-page news. But in reality, the attack on the right to protest has been ongoing for years.
Peaceful protests have wrongly been labelled "hate marches" and "mobs". Ministers' divisive language and distortions are extremely dangerous for our society and everybody's fundamental right to peacefully stand up and speak out for what they believe in.
It's no surprise that ministers aren't supportive of protests calling for an end to the carnage in Gaza given the Government's own opposition to a ceasefire and its refusal to condemn what are clearly breaches of international law by Israel with the same clarity that it, rightly, condemned breaches by Hamas and other armed Palestinian groups.
In fact the UK is, arguably, complicit in war crimes given ongoing sales of components for weapons and F16 Jets to Israel, despite knowing full well that these are being used in serious violations of international law in Gaza.
With the horrific 7 October attacks and ongoing appalling hostage taking by Hamas, and Israel's devastating retaliatory airstrikes across Gaza alarming people across the world; we've needed thoughtful, principled words and actions by our leaders. Instead, we've heard divisive language from ministers, and we've seen a concerted attempt to undermine our fundamental right to be able to peacefully express opinions on this same crisis.
Peaceful protest is STILL a human right.

🚨 Government pressure on police to ban peaceful protests is illegitimate. The Home Secretary describing overwhelmingly peaceful demonstrations as "hate marches" and "extremist" is a dystopian distortion. #ProtectTheProtest

— Amnesty UK (@AmnestyUK) November 7, 2023
The Home Secretary's extremely ill-judged comments and dystopian distortion calling overwhelmingly peaceful protests "hate marches" is part of a multi-pronged attack on freedom of expression in this country. Decreeing that specific protests should be banned because politicians deem them "provocative" or "disrespectful" is an outrageous attack on this fundamental right. This comes after years of police being given extraordinary powers to restrict those rights. Under international human rights law, protests cannot be banned on the basis of political interference and opinions.
Of course it's a relief that common sense (and legal advice) has prevailed and that the Met have firmly said for now the threshold to ban this weekend's march has not been met. But we have undoubtedly come dangerously close, with the police publicly and repeatedly 'asking' march organisers to reconsider and with Braverman and others 'welcoming' the request to call it off.
Meanwhile, reports that the Government is now considering ways to widen the definition of extremism are particularly concerning. The current definition is already over-broad and seemingly applicable to anyone engaging in political expression. Ministers have also been applying pressure on various sectors - especially the education sector to increase referrals to Prevent, the racist counter-terrorist duty that Amnesty has found to be fundamentally incompatible with the UK's international legal obligations. Numerous people have already been referred to the authorities for alleged "counter-terrorism" activity merely for holding certain nonviolent political beliefs. Thought policing is already in action.
The UK has a profoundly important history of allowing street protest - from anti-slavery protests, the Jarrow hunger march, CND protests, and various not-in-my-name anti-war marches. Indeed, these have often been a hallmark of how the wider public has made an important point when the government of the day has been on the wrong side of history. We must not allow this crisis to be used by the Government to clamp down on our own rights in the UK.
This is no time for divisive culture war language on Armistice Day. Indeed, is it not entirely appropriate for people to call for a ceasefire and highlight human suffering on the very day that marks a historic agreement to end bitter and ruinous fighting as a prelude to peace? To amplify many other voices from the region calling for an immediate ceasefire is something that large numbers of people in this country feel a duty to do. And, in doing so, they're upholding a revered British tradition of free speech, peaceful protest and international solidarity.
The right to express our view about an Israel-Gaza ceasefire - or so many important issues of the day – is, then, a central British value, one dating back centuries. And no more appropriate time for peaceful protest than Armistice Day, when we reflect on the horrors of armed conflict.
About Amnesty UK Blogs
Our blogs are written by Amnesty International staff, volunteers and other interested individuals, to encourage debate around human rights issues. They do not necessarily represent the views of Amnesty International.
View latest posts