Israel/OPT: Urgent call for an immediate ceasefire by all parties to end unprecedented civilian suffering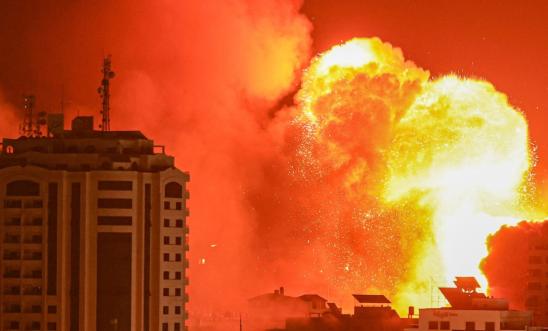 © MAHMUD HAMS/AFP via Getty Images
Mounting evidence of war crimes by Israeli forces and Hamas
Israeli air and ground strikes killing more than 6,500 people including at least 2,700 children
'In the face of such unprecedented devastation and suffering, humanity must prevail' - Agnès Callamard
Amnesty International is issuing an urgent call for an immediate ceasefire by all parties in the occupied Gaza Strip and Israel to prevent further loss of civilian lives and to ensure access to life-saving aid for people in Gaza amidst an unprecedented humanitarian catastrophe.
Agnès Callamard, Amnesty International's Secretary General, said:
"Over the past two and a half weeks we have witnessed horror unfolding on an unimaginable scale in Israel and the Occupied Palestinian Territories.

"Serious violations of international humanitarian law, including war crimes, by all parties to the conflict continue unabated. In the face of such unprecedented devastation and suffering, humanity must prevail.

"Urgent action is needed to protect civilians and prevent further staggering levels of human suffering. We urge all members of the international community to come together to demand an immediate humanitarian ceasefire by all parties in the conflict.

"A ceasefire by all parties is vital to enable aid agencies to get sufficient relief into the Strip and to distribute it safely and unconditionally. It would give hospitals an opportunity to receive life-saving medicines, water and equipment they desperately need as well as to repair damaged wards.

"An immediate ceasefire is also the most effective way to protect civilians as warring parties continue to commit grave violations. It could prevent the mounting civilian death toll in Gaza and could also provide an opportunity to secure the safe release of hostages."
Amnesty's joins the Special Rapporteur on human rights in the Palestinian Territory occupied since 1967, the UN agencies working in Palestine, and many human rights experts, represented by a long list of UN special procedures, who are also calling for a ceasefire, along with the UN Secretary General and the UN High Commissioner for Human Rights.
Since the horrific attacks in southern Israel on 7 October, in which Hamas and other armed groups killed at least 1,400 people and took over 200 hostages - most of them civilians, according to Israeli authorities - Israeli forces have launched thousands of air and ground strikes on the Gaza Strip. These strikes have killed more than 6,546 people, mostly civilians, including at least 2,704 children, according to the Palestinian Ministry of Health in Gaza. More than 17,439 have been injured and over 2,000 bodies are still trapped beneath the rubble while the health sector is on its knees.
The looming ground offensive by Israeli forces into Gaza is likely to have cataclysmic consequences for Gaza's civilians, as foretold by the ominous threats issued by the Israeli military to civilians remaining in northern Gaza. Civilians in Israel also continue to come under attack from indiscriminate rocket fire from Hamas and other armed groups in Gaza.
Mounting evidence of war crimes
Amnesty has documented evidence of war crimes by Israeli forces, Hamas and other armed groups. A ceasefire could also enable independent investigations into human rights violations and war crimes by all parties to be carried out, including by the International Criminal Court and the Independent Commission of Inquiry on the Occupied Palestinian Territory. Their work is vital as ending the longstanding impunity for war crimes and crimes against humanity and securing justice and reparation for victims are essential to prevent recurrence of these atrocities and to address the root causes of the conflict, such as Israel's system of apartheid imposed on all Palestinians.
Amnesty also reiterates its calls for:
An end to unlawful attacks, including indiscriminate attacks, direct attacks on civilians and civilian objects, and disproportionate attacks 

Israel to immediately allow unimpeded delivery of humanitarian aid into the occupied Gaza Strip 's civilians, lift its 16-year illegal blockade on Gaza, and grant immediate access to the Independent Commission of Inquiry on the Occupied Palestinian Territory

The international community to impose a comprehensive arms embargo on all parties to the conflict given that serious violations amounting to crimes under international law are being committed.

The International Criminal Court's ongoing investigation into the situation of Palestine to proceed and to receive full support and all necessary resources.

Hamas and all other armed groups to release unconditionally and immediately all civilian hostages and to treat all those being held captive humanely, including by providing medical treatment, pending their release.

Israel to release

all Palestinians who are arbitrarily detained.

The root causes of the conflict to be addressed, including through dismantling Israel's system of apartheid against all Palestinians.
Amnesty's research has highlighted how on 7 October Hamas and other armed groups from the occupied Gaza Strip launched indiscriminate rockets into Israel and sent fighters who committed grave violations of international law, such as summary killings of civilians and hostage taking, which amount to war crimes.
Amnesty has also documented damning evidence of war crimes by Israeli forces in their Gaza offensive, including indiscriminate attacks and collective punishment, that have resulted in mass civilian casualties, wiped out entire families and destroyed residential neighbourhoods. These violations must be investigated as war crimes.