REBELLION: Our new exclusive feminist t-shirt collection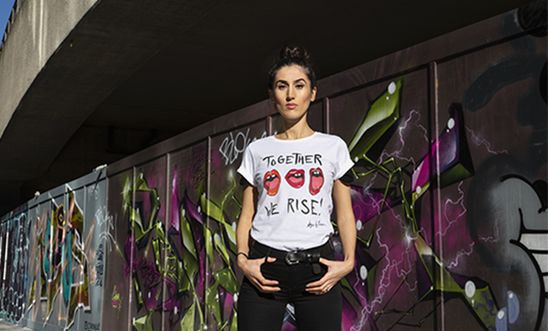 REBELLION collection t-shirt © Claudia Roche
We have recently teamed up with street wear company Everpress, to launch REBELLION, a new range of limited-edition feminist t-shirts, inspired by the incredible women in our Write For Rights campaign this year. Nine women and non-binary artists have used their talent to create stunning art, as an act of solidarity with inspiring women activists around the world.
Art and Fashion have long been used for tools of social change. In 1984, UK designer Katherine Hamnett famously met Margaret Thatcher in her hastily designed '58% Don't Want Pershing' t-shirt, creating a media storm and ensuring the controversial nuclear issue was firmly on the political agenda. On the current political climate, she said: 
'I think if we up our game now and use the power of our vote, we can still change the way things are. Political T-shirts are a start. The tragedy is that they are even more relevant now than they were when I started making them, 39 years ago.'
Most people who know me, my friends, family, colleagues, regular barista, are probably very familiar with one particular item of clothing of mine, my 'Smash the Patriarchy and Chill' t-shirt. My brother once joked that he assumed I was like batman and have a dozens of them, and just wear them like a uniform. That one item of clothing has sparked so many conversations with friends, family, strangers, about feminism, racism, privilege, power, and social change. Of course, a t-shirt on its own is not going to change the world. But it's a small act of resistance, and the start of a conversation. Combine that with lobbying your MP, getting out on the streets to protest, volunteering, and direct action, and we are getting somewhere.
The REBELLION campaign is all about sisterhood and solidarity. We have brought together incredible artists who regularly use their art for grassroots activist work in the UK and have asked them to show solidarity with women's human rights defenders, in the form of a t-shirt. 
They have been inspired by courageous women such as Seyi Akiwowo, founder of Glitch UK – an organisation dedicated to tackling online violence. Alice Skinner said of her piece: 
'I felt a play on "keyboard warriors", which is often depicted as a negative thing, could be flipped around and used as a positive. I have formed and am part of so many incredible online spaces for womxn, who always have each other's backs and I thought my illustration would be a great way to demonstrate this allyship and women coming together on the internet to help create communities.'
Jacob V Joyce, a non-binary artist, said of the quote on their t-shirt:
 
'"The Future is Queer" and image of hands sporting nails adorned with queer symbols are an invocation of change, LGBTQIA empowerment and criticality of the creeping rise in white supremacist, hetero-patriarchal, ableist values. I hope it will resonate with the same urgency as Angela Davis' quote "you have to act as if it were possible to radically transform the world, and you have to do it all the time".'
 
Write For Rights 2018 is supporting women human rights defenders who are currently in jail, or suffering harassment or persecution, including women affected by Northern Ireland's restrictive abortion law and those who have been victims of online abuse. 
The REBELLION campaign is just one way you can get involved.
The t-shirts are available to buy online from 7 November for three weeks only – until Monday 26 November – with 50% of the profits going to Amnesty, and 50% going to the artists. T-shirts are available in sizes from XXS – 5XL (due to an annoying technical glitch, some sizes are not available on the drop down list on the website, but just email hello@everpress.com if your size is not available and they will sort it out). The t-shirts are ethically manufactured, on Fair Wear Foundation and Organic cotton. Everpress will make sure all t-shirts arrive before Christmas, so buy one for yourself, and one for every feminist on your Christmas list.
About Amnesty UK Blogs
Our blogs are written by Amnesty International staff, volunteers and other interested individuals, to encourage debate around human rights issues. They do not necessarily represent the views of Amnesty International.
View latest posts