Millions of letters to highlight crackdown on women protesters around the world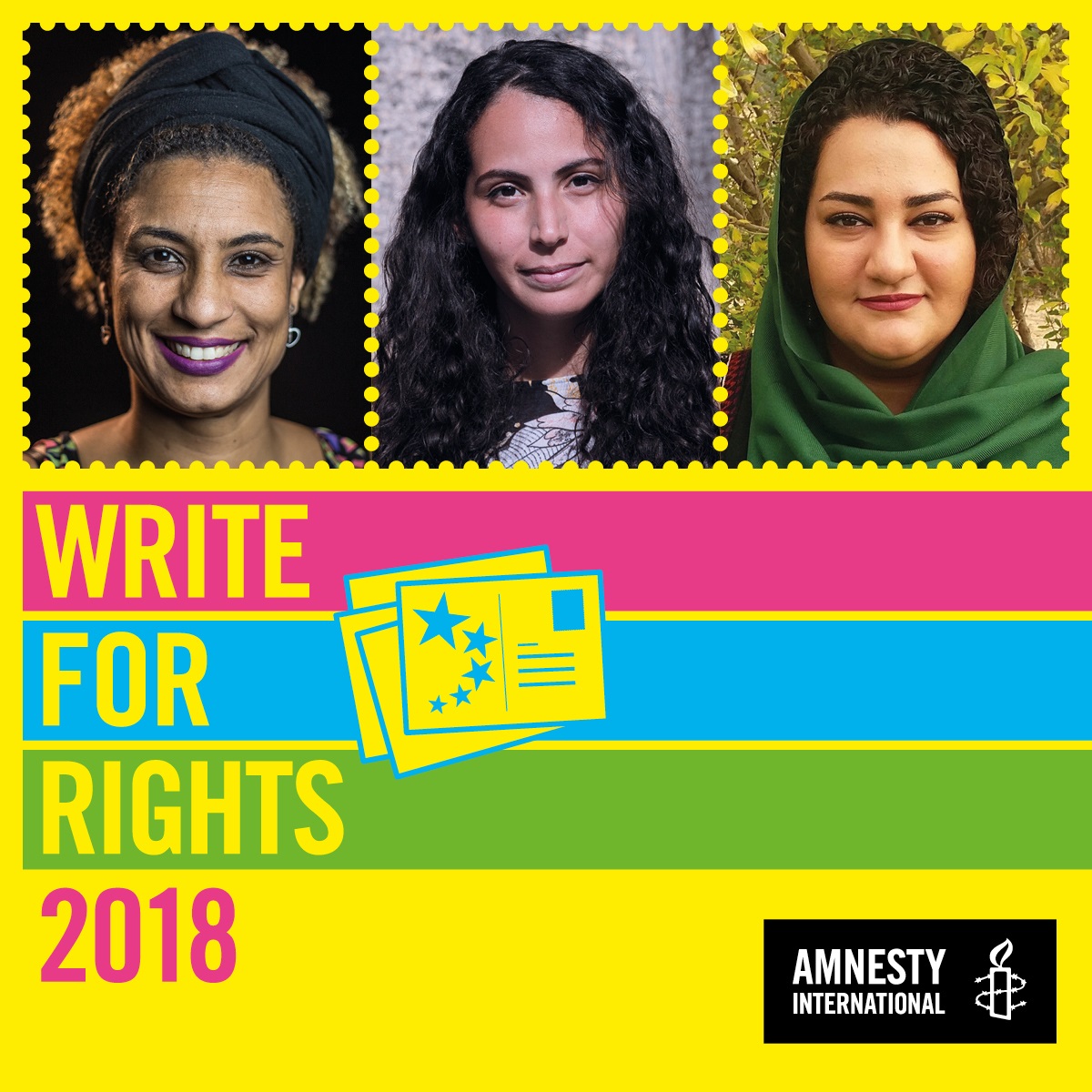 Biggest letter writing campaign in the world launches to stop abuses against 12 women rights defenders
In 2017 at least 312 human rights defenders were assassinated - twice as many as in 2015 
Cases include women affected by Northern Ireland's restrictive abortion law and murdered Rio councillor Marielle Franco
The level of danger facing women activists around the world has reached crisis point, Amnesty International said today, as it launched its global Write for Rights campaign to end the persecution of 12 women human rights defenders who have been jailed, tortured or abused for their work. 
 At least 3,500 human rights defenders have been killed since 1998 – an average of 180 deaths a year. This figure is increasing: the latest data shows that in 2017 at least 312 human rights defenders were assassinated, twice as many as in 2015. Women are particularly at threat as they often challenge the accepted gender norms and stereotypes in their society to protest against injustices, which often leads to them being portrayed as 'criminals', 'terrorists' or as a threat to 'traditional values'.
Amnesty's Write for Rights - the world's biggest letter writing campaign - will this year support 12 women or groups of women around the world who are facing abuses for defending human rights, including:
Nonhle Mbuthuma

who has faced harassment and death threats for leading a peaceful struggle against a company that wants to mine her communities ancestral land in

South Africa

;

Atena Daemi

, jailed in

Iran

for speaking out against the death penalty;

Marielle Franco

, a city councillor from

Rio de Janeiro

who was killed earlier this year for defending the people of her city;
Women and campaigners fighting to change

Northern Ireland's restrictive abortion laws

; and

Seyi Akiwowo

, who started a campaign against social media abuse after being harassed online.
During Write for Rights - which takes place between November and December - people around the world will send millions of messages of solidarity to these women, or write letters putting pressure on those in power to stop the abuses being committed against them.  
Kate Allen, Director of Amnesty UK, said:
"We've recently seen a surge in movements for women's rights - from #MeToo and #TimesUp, to the fight for abortion rights in countries like Argentina, Poland and Ireland. Together, women around the world are rising up to protect their rights.
"The world can be an extremely dangerous place for those who speak out for what they believe in. The crackdown on human rights defenders around the world amounts to a global crisis. Women who challenge human rights abuses are particularly at risk – targeted not just for their activism, but because of their sex and gender.
"That's why, in this year's Write for Rights campaign, we're supporting 12 brave women or groups of women who are suffering abuses because of their work defending human rights .
"We encourage everyone to pick up a pen and paper, send an email or tweet, and support these incredible women through their struggles – show them and the people with the power to end their suffering that the world is watching."
Letters written during previous Write for Rights campaigns have had huge impact. Richard Ratcliffe, husband of Nazanin Zaghari-Ratcliffe, who was supported by Write for Rights in 2016, said: 
"Two years ago, we were in a difficult place - Nazanin was in solitary confinement. Write for Rights helped give us strength.
"We received around 26,000 messages – some sent to our home, some to the prison. The fact that ordinary people cared and reached out made such a difference. It gave us a sense of hope, and it meant that the prison guards knew the world was watching. Shortly after Write for Rights, Nazanin was moved out of solitary confinement and put on a general ward.
"This year, Atena – a friend of Nazanin's in prison – will be receiving the letters. She has asked me to say that she is grateful to all that send love.
"Knowing that people around the world care about what you and your family are going through at such difficult times makes such a difference. It helps keep hope alive."
Last year, people across 208 countries and territories - from Afghanistan to Zimbabwe - took part in Write for Rights 2017. More than 5.5 million letters, cards, emails and social media posts were sent - more than 430,000 helped to protect Chinese housing activist Ni Yulan and her family, who no longer feel at risk from police harassment; and almost 875,000 demanded the release of Turkey Amnesty Chair Taner Kilic, Amnesty's Turkey Director Idil Eser, and nine other human rights activists in Turkey, all of whom are now free on bail.