Volunteer Role: 3x Regional Media Support Officer (East Anglia, North East and Wales)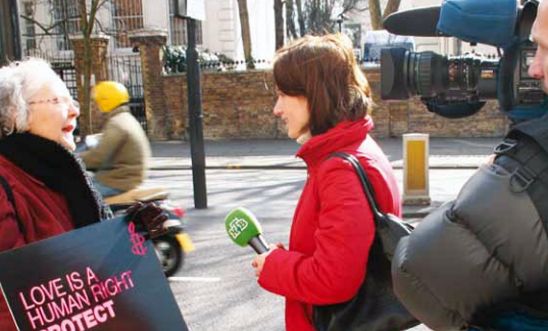 © Amnesty International
Can you spot a good story? Got an eye for news? Can you tell what will spark people's interest, make it into the local paper and on to regional radio? And can you pitch these stories to regional and local media? Then we need you!
We're looking for volunteer Media Support Officers to cover East Anglia, North East and Wales. 
Interested? Apply now
Background
We are committed to delivering on our goal of harnessing the power of activists. Across the UK, nearly 600,000 people help campaign for human rights change with us - from local groups to youth and student groups, to individual members and supporters.
The great work of Amnesty activists across the UK is supported by regional representatives and regional media support officers. 
As part of this we are currently looking to recruit three committed volunteers for the roles of Regional Media Support Officers in the following regions:
East Anglia

North East

Wales
About the Role
As a Regional Media Support Officer you will be the main point of contact for local, youth and student group media officers, as well as individuals within those groups who deal with media relations.
You will help activists grow their media impact and outreach. You will work closely with your nearest regional representative to help maximise the impact of activism in your given region. 
Further information regarding the role is outlined within the Job Specification. 
About you
You will have a track record of working in media environment, with strong creative and copywriting skills.
You will be advising activists on all things relating to the media, so it's crucial that you have direct experience of media and communications.
You'll need strong interpersonal skills to thrive, as you will be dealing with many different activists across differing constituencies.
A knowledge of Amnesty group structures is desirable, as well as a knowledge of human rights issues. 
In order to fulfil the role as Regional Media Support Officer you may need to be available for up to five hours a week (flexible based on circumstance). 
Please be aware that if applying for the role in the Wales Region you will need to be fluent in Welsh.
About us 
Our aim is simple: an end to human rights abuses. Independent, international and influential, we campaign for justice, freedom and truth wherever they're denied.
Amnesty International is a global movement of more than seven million people who campaign for a world where human rights are enjoyed by all.
Our supporters are outraged by human rights abuses but inspired by hope for a better world – so we work to improve human rights through campaigning and international solidarity.
Whether we're applying pressure through powerful research or direct lobbying, mass demonstrations or online campaigning, we're all inspired by hope for a better world – one where human rights are respected and protected by everyone, everywhere.
How to apply
Please download and complete the application form below before the closing date of 5pm on 31 January 2016.
Email completed forms to activism@amnesty.org.uk