Uganda's Anti-Homosexuality Bill becomes law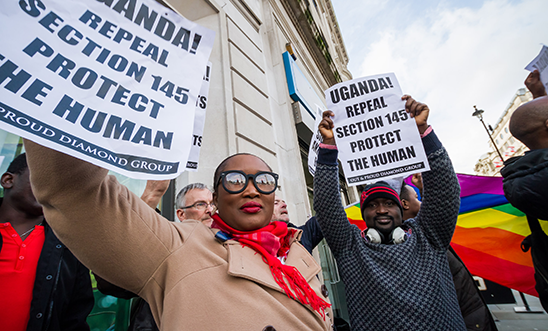 LGBTI supporters demonstrate outside the Ugandan High Commission in London on 8 January 2014 © Demotix
The president of Uganda, Kaguta Yoweri Museveni has today signed  a new law which means homosexuality now carries a life sentence.
It's already a crime to be gay in Uganda. Adults found to have had same-sex relationships used to face seven years in prison.
But this new law builds on existing laws and goes even further to criminalise LGBTI individuals - lengthening sentences for adults found 'guilty' of same-sex relationships, and extending punishments to people involved in 'promoting' homosexuality. Under the Anti-Homosexual Bill, anyone found guilty of same-sex relations would automatically be sentenced to a lifetime behind bars.
Dangerous and draconian
It is a dangerous and draconian piece of legislation and an affront to the human rights of all Ugandans.
This legislation will institutionalise hatred and discrimination against LGBTI people in Uganda. Its passage into law signals a very grave episode in the nation's history.
Uganda has made important progress on human rights in recent years, including criminalising torture, but this Bill is a colossal step backwards.
Thank you
Over 25,000 of you wrote to the president asking him not to make this law. This time it wasn't enough to stop him, but we never lose hope and will continue to campaign for LGBTI rights in Uganda and around the world.
Join our network defending LGBTI rights
If you want to keep on defending LGBTI rights join our LGBTI Network and we'll keep you in the loop by emailing you whenever there's an LGBTI case that needs your help.