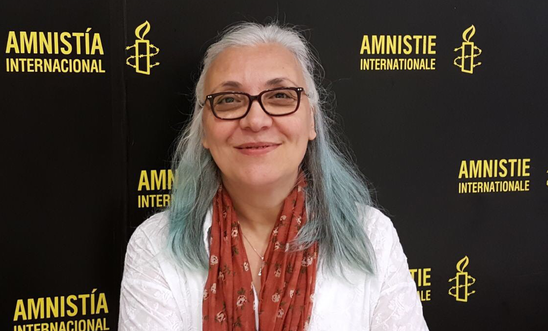 Idil Eser and 10 others were detained on 5 July 2017 © Amnesty International
Idil Eser, Director of Amnesty International Turkey, together with 10 others, was detained on 5 July in a grotesque abuse of power. No cause has been given for why they have been detained and they must be released immediately.
There is a human rights melt down going on in Turkey and this is the latest in a long line of incidents where free speech is being closed down and other human rights are being abused.
Training workshop
Idil Eser, along with seven other human rights defenders and two trainers were attending a routine digital security and information management workshop in a hotel in Büyükada, Istanbul when the authorities burst in and detained them without giving a reason. The owner of the hotel was also detained.
We don't know where Idil Eser and the others are being held and we understand that they have been denied access to lawyers or the right to contact a family member. In Turkey police are entitled to deny access to a lawyer for 24 hours, but being able to contact family should be granted immediately. 
The names of all the human rights defenders detained are:
İlknur Üstün - Women's Coalition
Günal Kurşun - Lawyer, Human Rights Agenda Association
Nalan Erkem - Lawyer, Citizens Assembly
Nejat Taştan - Equal Rights Watch Association
Özlem Dalkıran - Citizens' Assembly
Şeyhmuz Özbekli - Lawyer
Veli Acu - Human Rights Agenda Association
Human rights in Turkey
On 15 July 2016 there was an attempted coup against the Turkish government that failed. More than 300 people died and over 2,000 were injured in the violence. Since then the government has launched an astonishingly widespread crackdown. The numbers reported by CNN as of April 2017 are:
Detentions: 113,260
Arrests: 47,115
Journalists dismissed: 2,708
Media outlets shut down: 179
These have probably risen even higher in the last few months. 
Among other draconian measures are a ban on TV dating shows, which the Deputy Prime Minister has called "strange programmes that would scrap the institution of family, take away its nobility and sanctity".
There has also been an attempt at online censorship, including a block on Wikipedia, and attempted blocks on Facebook and Twitter amongst others.
Taner Kiliç
Idil Eser's detention comes less than a month after, Taner Kılıç, Chair of Amnesty International Turkey was detained. In the early hours of 6 June 2017 he was picked up by the authorities along with 22 other lawyers based in Izmir on suspicion of involvement with the 'Fethullahist Terrorist Organisation' – labelled a 'terrorist group' by the authorities.
On 9 June he was officially charged with membership of the organisation and remanded in pre-trial detention.
No evidence has been given to back up the charges and he must also be released immediately and the charges dropped. Take action for Taner
International Inaction
As world leaders meet at the G20 summit in Hamburg they must raise Idil Eser, Taner Kılıç and the thousands of others who have been detained with Turkey's President Recep Tayyip Erdoğan.
They cannot continue to turn a blind eye to this growing human rights catastrophe, especially our own Prime Minster Theresa May. This latest series of arrests is part of a relentless attack on human rights across the country.
Amnesty International was founded 56 years ago in London to stand up for human rights around the world. We are urging the UK Government to show their support for human rights too and call for the release of our colleague and the seven others detained in Turkey.