Thank you for taking action for Kashmir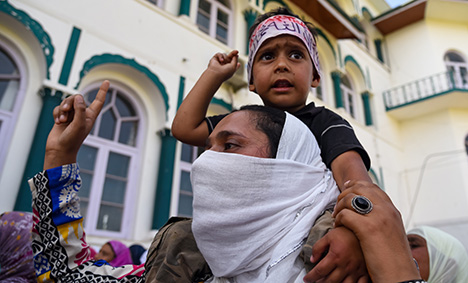 The Indian Government has partially lifted the
communications blackout
in Kashmir, but conditions for civilians remain dire. Amnesty India released this
situation report
on 18 Oct which lays out details of arbitrary mass arrests, the use of excessive force against protesters, curtailed access to medical supplies and more.
This action is now closed and your signatures, along with thousands more from around the world, will be delivered on 31 Oct around the swearing in of the new Governor. We will continue to monitor the situation in Kashmir and carry on our work through diplomatic channels - and we will keep you informed of any developments.
Thank you to the almost 15,000 of you that called on the Indian Government to lift the lockdown in Kashmir. You helped bring this injustice to the world's attention. And now India knows we're watching.
What happened?
On 5 August 2019, the Indian government revoked the special status of Jammu and Kashmir through a series of amendments in the Parliament. All these decisions were taken without consulting the political leaders or the people of Jammu and Kashmir.
The region is now the most militarised zone in the world.
Many political leaders across the political spectrum were also put in administrative detention and continue to be in custody without charge or trial.
Eight million people affected
The communications blackout created an information black hole in Kashmir. 
Sketchy reports highlighted a number of worrying human rights violations. We've seen torture, medical emergencies, mass arrests and detentions and children and young people being picked up in the middle of the night.
Protesters speaking out against the latest wave of government oppression were met by security forces firing tear gas, rubber bullets and pellet guns in an attempt to suffocate all opposition. 
Living under siege
Families have been torn apart as they live under siege in Kashmir. 
This is the human cost of the government crackdown and it cannot be ignored. 
The decades of political battle over Kashmir have affected its people more than anybody else, and now more so than ever before. 
Life has been derailed for the people of Jammu & Kashmir. While the region of Jammu has begun to see an easing of the lockdown in many districts, most of Kashmir still remains under a communications blackout.