Standing Rock: a major victory for Indigenous people and their rights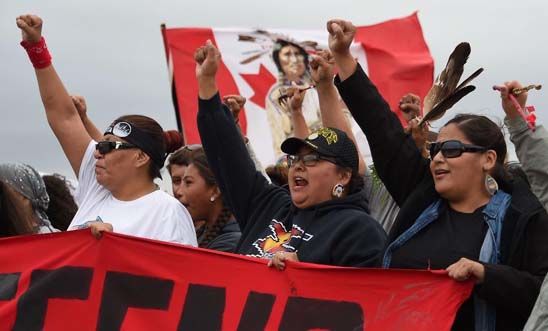 Update, 5 December 2016: Amazing news! In a major victory for Indigenous people who fought to protect the water and their rights, the Army Corps of Engineers has decided not to allow an oil pipeline to cross under a reservoir on land it controls in North Dakota.
We're calling on Congress to ensure that Indigenous communities are always consulted in decisions like this. It must only be the beginning of an improved process for projects that affect Indigenous populations. The world is now watching and so are we.
What's been happening at Standing Rock?
Freedom of expression is a human right. But at Standing Rock, North Dakota, it's been under threat. We've called on police to respect, protect and fulfil Indigenous people's right to peaceful protest.
Members of the Standing Rock Sioux Tribe and other tribes have been protesting against a planned oil pipeline that would border the Standing Rock reservation.
Tribal members and those protesting the Dakota Access Pipeline, calling themselves 'water protectors', say it threatens to contaminate their main source of drinking water and destroy cultural and religious sites. 
"People here just want to stand up for the rights of indigenous people and protect their natural resources. These people should not be treated like the enemy." 

Eric Ferrero, director of communications, Amnesty International USA 
Water protectors have set up camp at a planned construction site across the river from the Standing Rock reservation, supported by a growing number of Indigenous people and others from across the United States and Canada.
But as tensions have risen between law enforcement officers and protestors, the police have employed an increasingly militarised response. 
Over the last few months, Amnesty has sent four delegations of observers to the area to ensure people's human rights are protected. 
Our observers are continuing their work at Standing Rock. Make sure the #Right2Protest is respected at #DAPL. https://t.co/2X6u4g1bdG pic.twitter.com/S9OAhVBSG1

— AmnestyInternational (@amnesty) November 24, 2016
The right to protest peacefully
"Authorities have a duty to protect the rights of Indigenous peoples, including their right to peacefully protest. It is the responsibility of the police to ensure the right to peaceful protest and freedom of expression." 

Tarah Demant, a senior director with Amnesty International USA
Everyone has the right to peaceful assembly and expression. The police have a responsibility not just to respect people's right to protest, but to help them fulfil it. This means assisting gatherings to remain peaceful if there's a risk of disruption, and protecting protestors from violence. 
With this in mind, Amnesty USA has been deeply concerned about how the police have responded to events in North Dakota. 
"Treating protesters like enemies...has a chilling effect on free expression." -@margaretlhuang on #StandingRock https://t.co/0Fiw2S1ADf

— Amnesty USA Media (@AIUSAmedia) November 25, 2016
Evidence from news reports and Amnesty's own observers on the ground has shown an increasing use of force. Police have used pepper spray, tear gas and sprayed protesters with a fire hose in order to disperse crowds in freezing temperatures. 
Officers have been clad in military-style gear, and there have been reports of rubber bullets being used. Protestors describe being arrested, strip-searched and made to pay bail for minor offences. 
"Police must keep the peace using minimal force appropriate to the situation. Confronting men, women, and children while outfitted in gear more suited for the battlefield is a disproportionate response."

Eric Ferrero, director of communications, Amnesty International USA 
This was North Dakota yesterday - policing looks a lot like armed conflict @amnesty #StandWithStandingRock pic.twitter.com/Ui4aJVEMn2

— Margaret Huang (@MargaretLHuang) October 29, 2016
Respect, protect and fulfil the right to protest
Amnesty has reminded the police of their responsibility to respect, protect and fulfil protestors' rights to peaceful freedom of expression.
We've asked local law enforcement officials to follow these principles, based on UN guidance, in their response to protests in North Dakota.
1. Law enforcement officers should be instructed to facilitate a peaceful public assembly, not restrict it.
2. Officers should not be dressed in riot gear unless strictly necessary. 
Police presence at demonstrations needs to be proportionate to the situation. Read our letter to the sheriff. #DAPL https://t.co/DypiIANe4n pic.twitter.com/XNZDgVvgKN

— AmnestyInternational (@amnesty) November 23, 2016
3. Groups should only be dispersed if this is a necessary and proportional step, and there is no other way to prevent the threat of violence. 
4. If a non-violent assembly is disrupted by a small minority, officers should protect peaceful protestors and not use the actions of a few as a basis to curtail the rights of a majority. 
Police fired water at #DAPL protesters in freezing weather. Read more from the latest violent clash: https://t.co/XTxIg0DVbb pic.twitter.com/O6l1fZDJ7N

— Reuters Top News (@Reuters) November 21, 2016
5. Any use of force by officers – such as pepper spray, tear gas and rubber bullets – must be necessary, legal and proportionate to the threat posed. They should not be used in a way that causes lasting harm. 
6. Arrest and detention should be carried out legally and not used to intimidate, to punish, or to prevent peaceful participation in a public assembly.  
Following arrests at a North Dakota mall today, we reiterate our demand for police to respect the right to peaceful protest. #DAPL pic.twitter.com/sLGzvJwzKY

— AmnestyInternational (@amnesty) November 25, 2016
7. If people are arrested, restraints should not be used excessively or for long periods of time. Anyone who is arrested should be given food, water, medical attention if needed, access to toilets and prompt access to legal advice. 
8. Intrusive searches, including strip and body cavity searches, should only be undertaken if absolutely necessary. They should be conducted in private by trained staff of the same sex as the prisoner, and should not be carried out in a way that is cruel or humiliating.  
Amnesty International has human rights observers in North Dakota & Standing Rock again today pic.twitter.com/isxV5ccD3b

— Zeke Johnson (@ZekeJohnsonAi) November 24, 2016