Taking 1,460 selfies in protest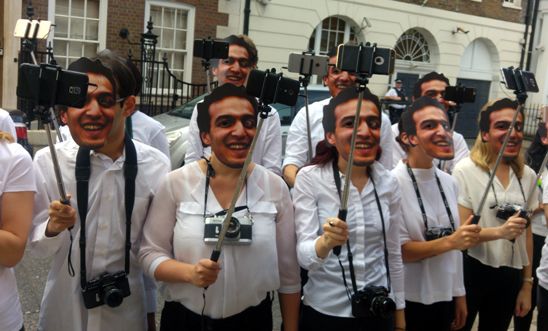 Amnesty activists calling for release of imprisoned photojournalist, Shawkan outside the Egyptian Embassy in London. © Amnesty International
"It's almost certainly the first time the Egyptian Embassy has been the subject of so many selfies in one day - but four years after Shawkan's arrest we think it's time to point our cameras at the embassy and ask 'Why is this photojournalist still in jail?'

"Shawkan's only 'crime' was taking photographs as part of his legitimate work as a journalist".
Kate Allen, Director of Amnesty UK
Armed with selfie sticks and chains wrapped around our arms, our staff took 1,460 selfies outside the Egyptian Embassy in London while wearing masks of photojournalist Mahmoud Abu Zeid, better known by his nickname, 'Shawkan'.
Why? Today marked four years since Shawkan was arrested simply for taking photos of a protest. We took one selfie for each of his days in prison. That came to 1,460 selfies in total.
We showed the Egyptian authorities at the Embassy that more than 17,000 people in the UK call for his release - thank you to all of you who signed the petition for Shawkan's freedom.
In prison for photographing a protest
Shawkan is a photojournalist who was simply doing his job when he was arrested on 14 August 2013 while photographing a military crackdown at a Muslim Brotherhood-led protest in Rabaa al-Adawiya Square in Cairo. More than 900 protesters, most of them unarmed, were killed at the protest when Egyptian security forces turned on them. It's referred to as the "Rabaa massacre". Shawkan was documenting the bloodshed when he was arrested.
He's been in prison for four years now, but has never yet been on trial. His trial has been rescheduled a whopping 35 times to date, without yet taking place. Meanwhile, Shawkan is suffering with Hepatitis C, and is not getting the regular medication that he needs.
Shawkan should never have been arrested in the first place. He has committed no crime. He's a prisoner of conscience, imprisoned for expressing his right to freedom of expression (taking photos) and freedom of association (being associated with the protest).
Yet he faces serious charges for being in the wrong place at the wrong time - including murder. He faces a mass trial with 738 other defendants, including leaders of the Muslim Brotherhood movement, and faces nine trumped-up charges. All of the charges against Shawkan are baseless.
With your help we will continue to:
Urge the Egyptian authorities to drop all charges against Mahmoud Abu Zeid, and to release him immediately and unconditionally as he is a prisoner of conscience detained solely for peacefully exercising his right to freedom of expression;
Call on them to protect Mahmoud Abu Zeid from torture and other ill-treatment for so long as he remains in detention;
Call on them to order an independent and impartial investigation into allegations that he has been tortured and otherwise ill-treated while in custody, and bring those responsible to justice in fair trials without recourse to the death penalty.