Activists to take 1,460 selfies outside Egyptian Embassy in London to highlight plight of jailed photojournalist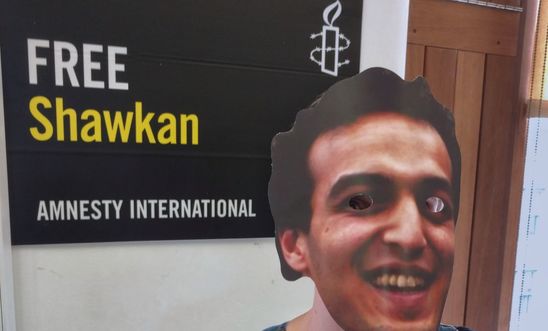 Twenty protesters will wear Shawkan face-masks outside the Egyptian Embassy on Monday © Amnesty International
One selfie for each day that photographer 'Shawkan' has spent in jail since being arrested covering an army massacre 
Former Al Jazeera journalist Peter Greste adds his voice calling for Shawkan's release
'It's almost certainly the first time the Egyptian Embassy has been the subject of so many selfies in one day' - Kate Allen
LONDON: MONDAY 14 AUGUST 2017, 11.30am
Activists will stage a demonstration outside the Egyptian Embassy in London on Monday to highlight the plight of an Egyptian photojournalist detained for four years after taking photographs during a military crackdown in 2013.
The photojournalist, Mahmoud Abu Zeid (better known by his nickname "Shawkan"), is facing trumped-up charges and could face the death penalty if convicted. 
The embassy stunt will mark exactly four years since Shawkan was arrested on 14 August 2013 while taking photographs of a notorious military crackdown at a Muslim Brotherhood-led protest in Rabaa al-Adawiya Square in Cairo. The crackdown, widely dubbed the "Rabaa massacre", saw more than 900 mostly unarmed protesters killed by members of the Egyptian security forces. 
Shawkan is being tried in a mass trial with 738 other defendants, including leaders of the Muslim Brotherhood movement, and faces nine trumped-up charges, including "joining a criminal gang" and "murder". The trial has been subject to repeated delays and Shawkan has languished in pre-trial detention for four years, despite suffering from Hepatitis C, for which he receives only sporadic medication.
Amnesty International considers Shawkan a prisoner of conscience and is calling for his immediate release. 
On Monday, 20 Amnesty activists, wearing Shawkan face-masks, with chains around their wrists and carrying vintage cameras, will take selfies (using selfie sticks) outside the Egyptian Embassy in central London (26 South Street, Mayfair, London W1K IDW). On 14 August, Shawkan will have been detained for 1,460 days, so the selfie-taking protesters will each take 73 embassy selfies for a combined total of 1,460 photos - one for each day of the photojournalist's captivity. The taking of each batch of 20 photos will be signalled by a loudhailer chant of "Taking pictures is not a crime - free Shawkan now" in both English and Arabic.
Other protesters will carry placards saying "Taking pictures is not a crime", a remark Shawkan made in his own defence at a pre-trial court hearing.
Before his arrest, Shawkan's work had been published by a range of leading publications, including Time magazine and the German newspapers Die Zeit and Bild. On the day of his arrest, he was on assignment for the London-based photo agency Demotix.  
Kate Allen, Amnesty International UK's Director, said:
"It's almost certainly the first time the Egyptian Embassy has been the subject of so many selfies in one day - but four years after Shawkan's arrest we think it's time to point our cameras at the embassy and ask 'Why is this photojournalist still in jail?'

"Shawkan's only 'crime' was taking photographs as part of his legitimate work as a journalist. 

"The Egyptian authorities should drop the charges against Shawkan and release him. Egypt's sinister crackdown on journalism has got to stop".
The former Al Jazeera reporter Peter Greste, who was also arrested while working as a journalist in Egypt and spent more than a year in jail before being released in 2015, said:
"Egypt's government presents itself as a democracy with respect for the rule of law. It can be neither as long as it locks up journalists for years on end without trial. 

"Shawkan's continued imprisonment is an abuse of freedom of expression - one of the fundamental pillars of a true democracy - and four years in prison is a travesty of justice. 

"Without free expression and rule of law, Egypt becomes a dictatorship."
Journalists jailed in Egypt
At least 14 journalists are currently behind bars in Egypt. Many of the imprisoned journalists have been in prison since 2013, under investigation for a variety of charges including "publishing false news" and "membership of a banned group". Meanwhile, the Egyptian authorities have censored more than 130 websites, including several news sites.