Russian journalist accused of anti-gay 'propaganda' defeats charges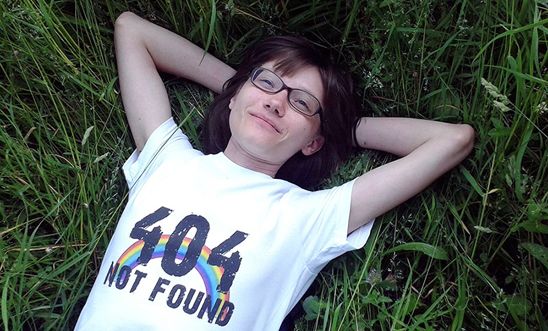 In January this year, Elena Klimova was charged under Russia's new anti-'gay propaganda' law for running Children 404, a website offering support to LGBTI teenagers.
On 21 February 2014, Elena's case was heard in court. The court ruled in her favour. Elena has been told that she can continue Children 404, her project that offers a lifeline to Russian teens.
5,000 thank yous!
More than 5,000 Amnesty supporters in the UK emailed or sent a text to the Russian authorities via our website or SMS action network, calling on them to drop the charges against Elena. Thank you. We'll continue to monitor the situation, and let you know if we need your support again. In the meantime, you can help to continue to defend LGBTI rights around the world from the UK to Russia to Uganda by joining our LGBTI Network.
Elena's project
25-year old Elena is a journalist. After writing a series of articles about LGBTI teenagers in Russia last March, she encountered a group of people rejected by their peers, families and teachers, with nowhere to go for support.
Children 404 offers LGBTI teenagers information and advice from health professionals, along with a closed forum for teens to share their experiences (many of them tales of bullying, rejection and suicidal thoughts) and connect with one another.
'It is only on the internet that they can find somebody to speak to. The feeling that most of these children feel is constant fear.'
Elena, interviewed by the Guardian
Children 404 aims to create an online space for LGBTI teenagers to express their fears, seek health advice, and safely connect with others experiencing similar issues in a space where each individual's sexual identity and gender orientation is accepted and respected.
Accused of 'promoting non-traditional sexual relations'
Elena was charged with 'creating a page on the Internet-resource VKontakte [the second most popular social platform in Europe, after Facebook] ... promoting non-traditional sexual relations'.
At her appeal hearing today, Elena's lawyer argued that she only administrated the page - she didn't create it. Plus, police records documenting Elena's 'offence' were drafted with significant violations.
The court consulted a mental health professional, who concluded that Children 404 does not contain any 'propaganda on non-traditional relations' - instead, they stated that the project helps teenagers exploring their sexuality to deal with difficult emotional issues and other problems that they may encounter.
The court ruled in agreement of the defense, which means that
Elena will not have to pay a large fine
Children 404 will be allowed to continue providing support to LGBTI teenagers in Russia
The case can be formally closed.
St Petersburg politician Vitaliy Milonov, who originally submitted complaints against Elena, said that he would appeal the court's decision. He has often spoken out in defense of Russia's anti-LGBTI 'propaganda' law.
The anti-LGBTI 'propaganda' law
'It is necessary to protect the younger generation from the effects of homosexual propaganda'
Footnote to the Anti-Homosexuality Bill, passed June 2013
In June last year, Russia's Parliament unanimously passed the Anti-Homosexual Propaganda Bill, outlawing all 'propaganda of non-traditional sexual relationships among minors expressed in the dissemination of information'.
Individuals like Elena or organisations found to be communicating LGBTI-related content now face hefty fines and the closure of their projects. The 'dissemination of information' includes online forums like Project 404, in-person health services, public meetings or demonstrations proudly defending LGBTI rights.
The law has not only permitted but actively encouraged a crackdown on any LGBTI-related activity in civil society. Many of the posts on Project 404 are from teenagers scared of being targeted by anti-gay vigilante groups just for their sexuality.
'I am scared that they will find out about me and lynch me. Sometimes I want to cry out: "Accept me for who I am! Or at least be tolerant of me."'
16-year old Svetlana's post on Children 404
Russia's human rights crackdown
The Anti-Homosexual Propaganda Law is just one of many created by Putin's government in recent years to cut back freedoms for ordinary Russians. The space for speaking freely and expressing personal identity continues to shrink.