Venezuela: Prisoner of conscience's life at great risk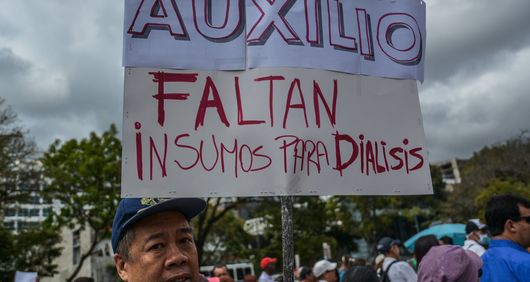 Since his arbitrary arrest on 29 November 2018, Venezuelan labour rights activist Rubén González, 60, has suffered a series of health crises, but has not yet received adequate care. On 19 January 2020, Rubén González began experiencing hypertension, putting his life at risk, unless he receives urgent medical attention. He is a prisoner of conscience and must be released immediately and unconditionally.
Rubén González is a trade unionist, who has been arbitrarily detained and subjected to unfair trials on several occasions. He has suffered from renal failure for more than 10 years, as well as hypertension. His lawyers have repeatedly requested medical attention from the courts, but he has only been transferred for medical treatment once. They do not allow his family to send medication unless he is already in severe pain.
Taking action
Twitter: @NicolasMaduro
Since twitter is a massive social media platform in Venezuela, and other communication means are practically non-existent, particularly mail, we advise the use of twitter as the main way to contact authorities in the country.
*As sending physical mail to Venezuela is unreliable, we recommend contacting your local embassy or high commission.
Downloads