Pakistan: Disappeared human rights defender at risk of torture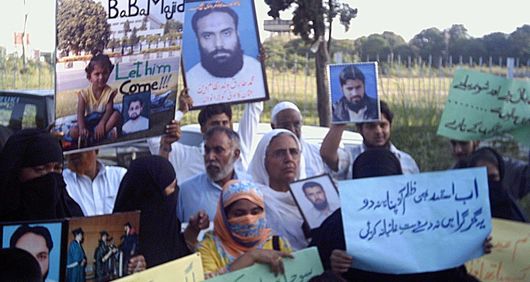 Muhammad Idris Khattak, a Pakistani human rights defender and independent researcher, is feared to have been subjected to an enforced disappearance. No one has seen him since the evening of 13 November, when he was taken by men in plain clothes on a motorway between Islamabad and Peshawar. His whereabouts and fate remain unknown to his family. Amnesty International fears that Khattak could be at risk of torture, ill-treatment or worse – as suffered by other victims of enforced disappearance in Pakistan. Khattak also has diabetes and needs daily medication.
Who is Muhammad Idris Khattak?
Muhammad Idris Khattak is a 56-year-old Pakistani human rights defender and independent researcher, who has worked as a consultant with Amnesty International and other international human rights NGOS. For years, he has documented a wide range of human rights violations and humanitarian crises in the Khyber Pakhtunkhwa, in northwest Pakistan, and the former Federally Administered Tribal Areas, a previously semi-autonomous region in northwest Pakistan.
While Mr Khattak was on his way home from the capital city, Islamabad, his car was intercepted. He was being driven by a driver that he travelled with frequently. According to the information provided by Mr Khattak's family, to the police, Mr Khattak and his driver were taken by four men in plain clothes on 13 November 2019. The men put black sacks over Mr Khattak and the driver's head, before taking them to an undisclosed location. Mr Khattak's family only found out about his disappearance when the driver was released, on the night of 15 November 2019.
Mr Khattak is at risk of torture, ill-treatment, and more. He is also diabetic and needs daily medication.
Enforced disappearances in Pakistan
Enforced disappearances have long been a stain on Pakistan's human rights record. As of 30 June 2019, the Pakistani government's Commission of Inquiry on Enforced Disappearance has 2,122 cases unresolved.
Enforced disappearances in Pakistan have been used as a tool to muzzle dissent and criticism of military policies. The individuals and groups targeted in enforced disappearances include ethnic and religious minority groups, political activists, human rights defenders, members and supporters of religious and nationalist groups, suspected members of armed groups, and religious and political organisations in Pakistan.
The disappeared are at risk of torture, ill-treatment, and even death. If they are released, the physical and psychological scars endure. Disappearances are a tool of terror that strike not only individuals and their families, but entire societies. Enforced disappearance is a crime under international law, and if committed as part of a widespread or systematic attack, they constitute a crime against humanity.
The current government of Imran Khan promised to criminalise enforced disappearances through legislation, however no such legislation has even been tabled in the parliament. Shireen Mazari, the Minister for Human Rights, said the government wants to sign the International Convention for Protection of All Persons from Enforced Disappearances, but no progress has been made on this front. Instead, the practice of enforced disappearance continues in the country with little to no consequences.
Downloads