Nine activists jailed for protesting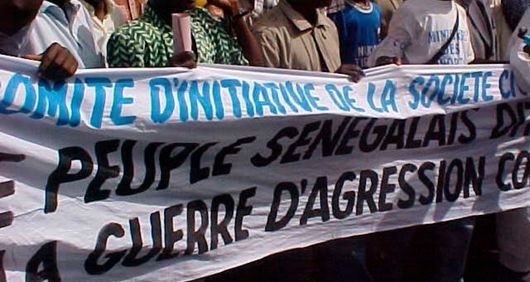 Nine activists, Guy Marius Sagna, Mamadou Diao Diallo, Malick Biaye, Pape Abdoulaye Touré, Babacar Diop, Souleymane Diockou, Ousmane Sarr, Souleymane Ndjim and Fallou Galass, were arrested on 29 November 2019 in Dakar, the capital of Senegal, and charged with "participation in an unauthorised gathering". Eight of them have been held in detention since then and are on hunger strike. The health of two of the activists has deteriorated since.
Background:
On 26 November, the national electricity company announced an increase in the price of electricity for customers, deemed necessary by the state, following the increase in the price of oil. Civil society and pro-democracy movements decided to protest against the price increase.
Five organisations decided to lead the first protest, ending the march in front of the presidential palace, and handing the President a letter. These nine activists were arrested during the protest in front of the gates of the President's palace.
Guy Marius Sagna, one of the arrested nine, is a prominent activist in Senegal. In July, he was arbitrarily detained and charged with false alert of terrorism. He was released on bail on 16 August.
PLEASE TAKE ACTION until 22 January 2020
Please write using your own words or the template letter provided in the attached documents, in French, English, or your own language, to the listed address as soon as possible: 
Minister of Justice
Mr Malick Sall
Avenue Jean JAURES, ex ambassade des Etats Unis
BP 4030
Dakar
Sénégal
Email: m_sall2002@yahoo.fr
Downloads