Myanmar: Release jailed filmmaker second update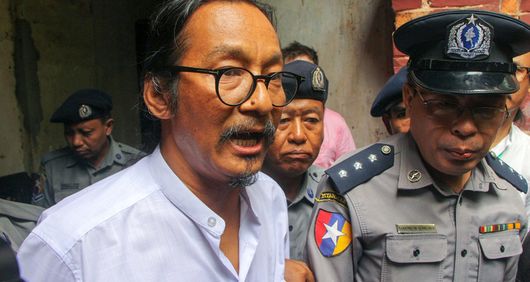 Filmmaker Min, Htin Ko Ko Gyi, has been convicted under 505(a) of Myanmar's Penal Code and sentenced to one year in prison for a series of Facebook posts critical of the Myanmar military. The appeal against his conviction was rejected, and he faces up to two additional years in prison, as another complaint against him remains pending. He is a prisoner of conscience who should be immediately and unconditionally released.
Background:
Min Htin Ko Ko Gyi is a prominent filmmaker and founder of the Human Dignity Film Institute, and the Human Rights, Human Dignity International Film Festival in Myanmar. He was arrested on 12 April 2019 after a Myanmar military official accused him of defaming the military in a series of Facebook posts critical of the military-drafted 2008 Constitution and the military's role in politics. He was found guilty of the charge and sentenced to one year in prison on 29 August 2019. His appeal against the conviction was immediately dismissed.
The Myanmar authorities continue to arrest and imprison activists and human rights defenders simply for peacefully exercising their right to freedom of expression. Amnesty International is concerned about a number of laws in Myanmar, which arbitrarily restrict the right to freedom of expression.
The Myanmar military continues to wield significant economic and political power in the country. It operates independently of civilian oversight, effectively shielding members of the military from accountability. Under Myanmar's 2008 Constitution, the military also has a guaranteed 25 percent of seats in Parliament, giving it an effective veto over key Constitutional amendments. It also controls the three key ministries of Defense, Border Affairs, and Home Affairs.
PLEASE TAKE ACTION until 2 January 2020
Please write using your own words or the template letter provided in the attached documents, in English, Burmese/Myanmar, or your own language, to the listed address as soon as possible: 
President U Win Myint
President's Office,
Office No. 18 Nay Pyi Taw
Republic of the Union of Myanmar
Fax: +95 1 652 624
Downloads