Human rights defender held incommunicado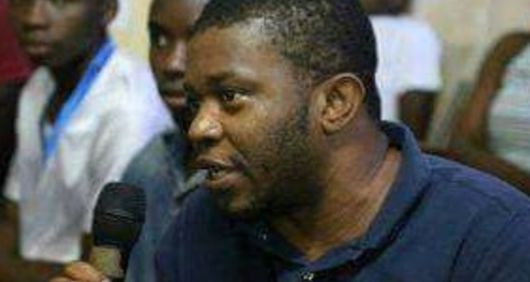 Human rights defender Joaquín Elo Ayeto continues to be detained in Black Beach Prison, in Malabo, Equatorial Guinea. He has been detained since 25 February 2019, when he was arrested at his home in Malabo. Joaquín was tried for defamation and threats against the President on 21 November 2019. Almost two months later, the sentence has not yet been read. On 2 January 2020, without any official notification or apparent cause, Joaquín was transferred to an incommunicado cell of the prison.
Who is Joaquín Elo Ayeto?
Joaquín Elo Ayeto, also known as Paysa, is a member of the opposition political party Convergence for Social Democracy (Convergencia Para la Democracia Social) (CPDS), and a member of the coordination body for Somos+, a civil society platform made up of around 15 young men and women working to challenge injustices affecting young people.
As a human rights activist and political opponent, Joaquín has been arrested and imprisoned several times. His arrest on Monday 25 February 2019 was Joaquín's third time being arrested.
You can find more information on the situation facing human rights defenders and activists in Equatorial Guinea here.
Conditions of Joaquín's arrest and detainment
The arrest took place at 6:00am at Joaquín's home in Malabo – the capital of Equatorial Guinea. Joaquín was in his room on the first floor when he heard some noise on the ground floor, where his tenants were. When Joaquín went downstairs he saw seven police officers. One of the officers asked him if he was Joaquín Elo Ayeto, and when Joaquín identified himself he was asked to wait outside as the officers went upstairs to his room.
Officers took Joaquín's camera, laptop, mobile phone, a USB and some magazines from his political party. He was arrested and first taken to the Central Police station – known as Guantanamo – in Malabo. He was brought before a judge on Friday 1 March 2019.
While in the presence of the judge, Joaquín insisted on showing injuries he got from torture in police custody. The judge refused to hear his testimony and ordered his pre-trial detention at Black Beach Prison. The only thing the judge had to say, regarding Joaquín's injuries, was that he would receive medical treatment in prison.
On several occasions during Joaquín's pre-trial detention his lawyers were denied access to him when they went to the prison to see him. His family has not been able to regularly visit him either. In August 2019 there were serious concerns for the Joaquín's health, as he experienced severe diarrhoea and high fevers.
On 21 November Joaquín was tried at the Investigating Court Number 2 of Malabo. Defense lawyers have described the session as an embarrassing show, in which the Prosecutor was not able to bring forward any proof that Joaquín had committed any of the charges being brought against him.
Since the trial took place lawyers have been going to the Court almost every day, to see when the sentence will be issued. They have not yet been given a confirmed date.
Taking action
It is important that the Action gets distributed on social media
Please see Amnesty West and Central Africa's Twitter account and Facebook page for more information
 
Use hashtags: #EquatorialGuinea and #FreePaysa
Downloads