Benin: Journalist sentenced for "harassment"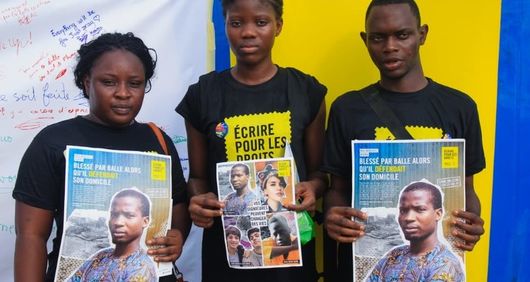 On 24 December 2019, a Benin court sentenced investigative journalist Ignace Sossou to 18 months in prison and fined him for "harassment", for posting tweets containing quotes made by Benin's Public Prosecutor during a conference hosted by the French media development agency, CFI. The Public Prosecutor alleged his remarks had been taken out of context and issued a complaint against Ignace Sossou to the Court of First Instance. Ignace Sossou is being arbitrarily detained and must be immediately and unconditionally released.
Background
At least 17 journalists, bloggers and political activists in Benin are known to have been prosecuted under the 2018 Digital Law, in under two years' time. The law's repressive provisions undermine rights to freedom of expression and media freedom in the country. 
After declaring that it "distances itself from publications and from these types of practices which are unethical and give a bad name to the profession as a whole", CFI has publicly presented "an apology for the unfolding of the events in which he [Ignace Sossou] was a victim". 
In another case, Ignace Sossou was prosecuted in August 2019 for publishing "false information'' in connection with two articles on tax evasion in Benin. He had been sentenced by the Cotonou First Class Court of First Instance for defamation to a suspended month in prison and a fine of 500,000 FCFA (approximately 635 GBP). 
Taking action
Patrice Talon, President of the Republic of Benin
Palais de la Marina
Cotonou, Benin
Email: patricetalon@hotmail.fr
You may also petition the President of Benin on Social Media @PresidenceBenin and @patrice_talon or on his Facebook account. 
You can also tag @AmnestyWARO and Ignace Sossou @Ignacekp
Downloads