USA/Colombia: fresh evidence of US weapons being used against protesters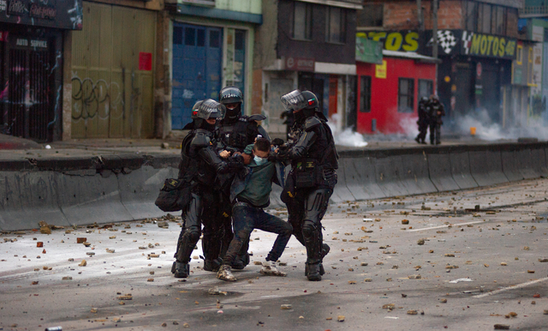 Riot police apprehending a protester in Bogota last month © Sebastian Barros/NurPhoto via Getty Images
Two types of US-made grenade launchers used by Colombian security forces
Four weeks of protests have been met by police violence, with dozens of deaths
'The United States role in fueling ceaseless cycles of violence committed against the people of Colombia is outrageous' - Philippe Nassif
Amnesty International is calling on US Secretary of State Antony Blinken to immediately halt the flow of US weapons and equipment to Colombia after Amnesty verified visual evidence of US-made equipment being used by the Colombian security forces to commit human rights violations against protesters.
Amnesty has verified the use of Venom high-capacity grenade launchers and Penn Arms hand-held grenade launchers, both manufactured by the US company Combined Systems. 
The USA has historically been one of the main providers of weapons and other equipment to Colombian law-enforcement and security bodies, and there are reports of new purchase orders of US equipment from early this year.
Amnesty is calling for the USA to halt the direct or indirect supply, sale or transfer of equipment used for repression - such as small arms, shotguns and related ammunition; less-lethal equipment, such as tear gas, riot control projectiles and launchers; armoured vehicles, dual-use surveillance technologies, training and any other technical or financial assistance.
Philippe Nassif, Amnesty International USA's Advocacy Director, said:
"The United States role in fueling ceaseless cycles of violence committed against the people of Colombia is outrageous.

"A suspension of weapons must remain in place until the Colombian security forces fully comply with international law and standards on the use of force, abuses are independently and impartially investigated, and there is full accountability for all human rights violations that have been committed by the Colombian authorities, with support from the United States. 

"Secretary Blinken has the power to stop the fear and terror that Colombian protesters are enduring, and he must do so immediately."
Four weeks of protest
A national strike ("Paro Nacional") started in Colombia on 28 April and has continued with multiple mass demonstrations across the country. The Government has responded to protests by deploying the military and the police anti-riot squad.
As of 9 May, Colombian human rights organisations had recorded the 47 deaths, 39 of them in the context of violent repression by the Colombian police, with 1,876 acts of police violence, 963 arrests, 28 victims of eye injuries and 12 cases of sexual violence. The country's Attorney General Office has received at least 168 requests concerning missing persons, as well as other reports of torture, ill-treatment, beatings and attacks by armed civilians, many in the presence of the police.