UK: Theresa May must call for release of Amnesty Turkey director from detention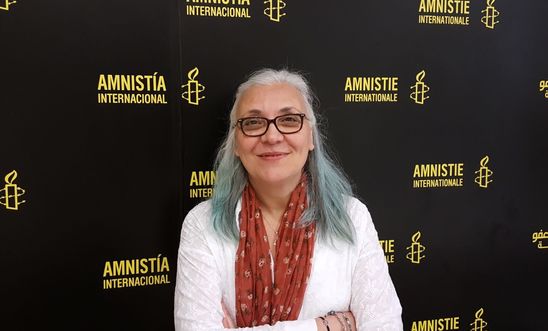 Idil Eser and 10 others were detained on 5 July 2017 © Amnesty Intenational
Responding to the news that Idil Eser, Director of Amnesty International Turkey, was detained yesterday (July 5) along with seven other human rights defenders, Kate Allen, Amnesty International UK Director, said:
"We are urging Prime Minister Theresa May to raise this detention with Turkey's President Erdoğan as a matter of urgency.

"My friend and colleague Idil Eser, and the seven other human rights defenders, must be released immediately.

"As world leaders meet at the G20, they must speak as one to exert pressure on President Erdoğan to halt the crackdown on civil society in Turkey. They cannot continue to turn a blind eye to this growing human rights catastrophe.

"This latest series of arrests is part of a relentless attack on human rights across the country in the wake of last year's attempted coup.

"Amnesty International was founded 56 years ago in London to stand up for human rights around the world. We are urging the UK Government to show their support for human rights too and call for the release of our colleague and the seven others detained in Turkey."
Background
The whereabouts of Idil Eser and the others detained alongside her are currently unknown.
Idil Eser and the other detainees are understood to have been denied access to lawyers, which police are entitled to do for 24 hours, and the right to contact a family member, which must be granted immediately.
Police have told lawyers that they will be given information at 2.30pm today.
In addition to Idil Eser, the seven human rights defenders detained were: İlknur Üstün (Women's Coalition), Günal Kurşun (lawyer, Human Rights Agenda Association), Nalan Erkem (lawyer, Citizens' Assembly), Nejat Taştan (Equal Rights Watch Association), Özlem Dalkıran (Citizens' Assembly), Şeyhmuz Özbekli (lawyer), and Veli Acu (Human Rights Agenda Association).
Two foreign trainers – a German and a Swedish national – as well as the hotel owner, were also detained.
These detentions come less than a month after Amnesty International's Turkey chair, Taner Kiliç, was remanded in prison custody on baseless charges.