UK: call on JCB and other British firms to end involvement in Israeli settlements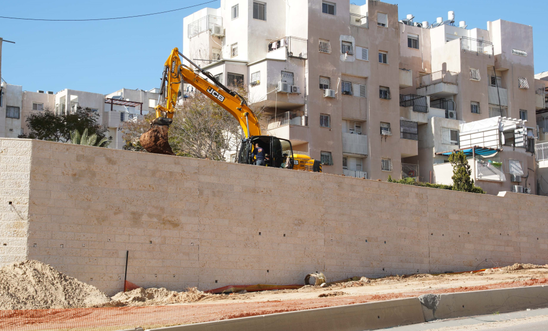 A JCB digger at work in the illegal Israeli settlement of Modi'in Illit earlier this month © Amnesty UK
Three UK firms - construction equipment makers JCB, online travel agency Opodo, and metal coating company Greenkote - 'profiting from crimes' in illegal settlements
Letter to James Cleverly calls on Government to act after publication of UN database of settlement companies 
'It's finally time for JCB, Opodo and Greenkote to stop profiting from crimes against the Palestinian people' - Kate Allen
Amnesty International has called on the UK Government to prohibit the involvement of three British companies in illegal Israeli settlements in the Occupied Palestinian Territories.
The move comes after the United Nations published a list of 112 companies conducting "substantial and material" business activities in Israeli settlements.
Amnesty has also written directly to JCB, Opodo and Greenkote, asking them to end their settlement-related business activities, and to James Cleverly, the Middle East minister, urging him to ensure that this happens. 
In addition to the three UK firms, the UN database names several digital tourism companies engaged in the Israeli settlements - including Airbnb, TripAdvisor, Expedia and Booking.com, all previously accused by Amnesty of driving tourism to settlements and contributing to their existence and expansion. More than 350,000 people globally have supported Amnesty's "checkout" campaign calling on TripAdvisor to remove listings located within Israel's illegal settlements or run by settlers in the Palestinian Territories, including in East Jerusalem.
The UK Government has repeatedly described Israel's settlements as "illegal under international law", and recently expressed concern at the possible annexation of parts of the West Bank under the US "peace plan" proposal. 
Joint call on Government
Amnesty's intervention coincides with a new joint statement from human rights, humanitarian and faith groups calling for the Government to act (see signatories and full text here). In their statement, the groups call on the Government to take action to prevent the three British companies named in the UN database from continuing to do business in or with Israel's settlements. The UK has a "duty to protect human rights" arising from international treaties and relating to the UN Guiding Principles on Business and Human Rights, say the groups, and therefore "the UK should ensure that these three companies urgently end their involvement in settlement-related activities". 
Kate Allen, Amnesty International UK's Director, who visited the West Bank earlier this month, said:
"After being named and shamed by the UN, it's finally time for JCB, Opodo and Greenkote to stop profiting from crimes* against the Palestinian people.

"When I was in the occupied West Bank earlier this month, I saw for myself the devastation wrought on Palestinian lives by Israel's illegal settlements.

"Put simply, Israel's settlements are an illegal land-grab on a vast scale. Half-a-million settlers now squat on Palestinian land, diverting resources away from Palestinian villages amid a fortress-like security apparatus.

"UK companies must divest themselves of any business dealings with Israel's illegal settlements - their shareholders will demand nothing less, and nor will their customers."
*Note to editors on international law
Israeli settlements in Occupied Palestinian Territory are illegal under international humanitarian law as they breach the Fourth Geneva Convention. Similarly, under the Rome Statute of the International Criminal Court, the "extensive destruction and appropriation of property not justified by military necessity and carried out unlawfully and wantonly", and the "transfer, directly or indirectly, by the Occupying Power of parts of its own civilian population into the territory it occupies", constitutes war crimes.