Turkey: Students facing three-years in jail for celebrating Pride must be acquitted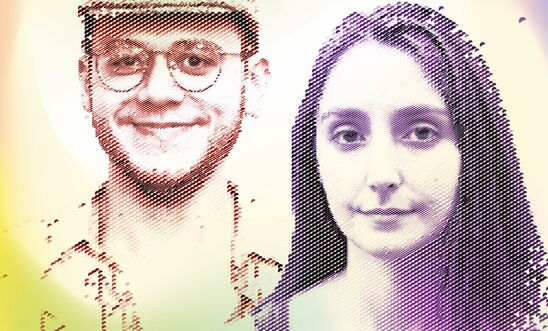 Melike Balkan and Özgür Gür © Amnesty International (Script: David Hunter)
Students face up to three years in jail in trial starting on Human Rights Day
Celebrities and influencers Riyadh Khalaf, Jessica Kellgren Fozard, Russell T Davies, Char Ellesse and Matty Healy among those speaking out
LGBTI celebrities, influencers and allies have been speaking out in support of 18 students on trial in Turkey this week for participating in Pride celebrations last year.
Travis Alabanza, Riyadh Khalaf, Jake and Hannah Graf, Matty Healy, Russell T Davies, Divina De Campo, Natasha Devon, Sophie Duker, Char Ellesse, Sade Giliberti, Michael Cashman, Jessica Kellgren Fozard, James Mac, Jamie Raines & Shaaba Lotun, Suki Sandhu, Cherrelle Skeete, Chris Sweeny and Char Bailey have lent their support to the Turkish students whose trial is due to start on 10 December, International Human Rights Day.  
Eighteen students and one academic at Ankara's Middle East Technical University are set to go on trial for organising a Pride sit-in last year after the university told the students they could not go ahead with their annual Pride march on campus. They face up to three years in jail if found guilty.
The students staged a peaceful sit-in on 10 May 2019, which was broken up by police who used excessive force - including tear gas - against the protesters. At least 23 students and an academic were arrested.
Despite exercising their right to peaceful protest, 19 people - 18 students and an academic - were charged with "participating in an unlawful assembly" and "failing to disperse despite being warned".
In support of the students, whose case is part of Amnesty International's annual letter-writing campaign Write for Rights, the celebrities and influencers have been posting awareness-raising messages on their social media channels under the hashtag #LoveIsOnTrial.
Nils Muižnieks, Amnesty International's Europe Director.
"Against the backdrop of increasing homophobia in Turkey, METU students and staff have marched through their campus each year to celebrate Pride, and demand equality and dignity for LGBTI+ people.
"The only just outcome in the unfair prosecution of 19 human rights defenders for their participation in a peaceful Pride march is their wholesale acquittal."
Write for Rights
The Turkey Pride defenders are part of Amnesty's flagship annual letter-writing campaign, Write for Rights, which seeks to help people around the world who have been harassed, attacked, jailed or disappeared for standing up for their rights.