Saudi Arabia: business leaders must avoid 'dirty deals' at B20 summit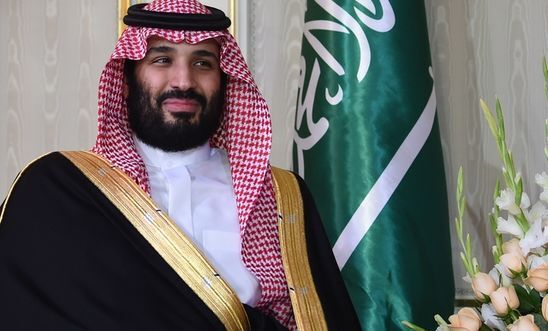 There has been a crackdown on human rights activists under Mohammed bin Salman's leadership © AFP/Getty Images
Letter to UK companies warns of involvement in Saudi human rights abuse
B20 promotes 'gender diversity' yet Saudi women activists languish in jail
'British firms do business in Saudi Arabia at their reputational peril' - Kate Allen
Amnesty International is calling on business leaders participating in the "B20" summit in Saudi Arabia next week to avoid "dirty deals" and to indicate how they intend to prevent their companies becoming involved in human rights violations in the Kingdom.
The 26-27 October meeting, the official forum for business leaders to present policy recommendations to the G20 summit next month, is expected to see CEOs and senior figures from HSBC, Standard Chartered, PwC, the mobile phone network industry organisation GSMA - and other companies with offices in the UK - take part in the Riyadh meeting to discuss business opportunities in the country. 
Other high-profile participants include representatives from Mastercard, McKinsey, CISCO, ENI, Siemens, Accenture and BBVA.
The Saudi authorities have recently talked of their intention to "open" the country for new investment, yet the B20 also comes at a time when government critics and human rights defenders in Saudi Arabia have been arrested, tortured and put on trial. Two years ago the journalist Jamal Khashoggi was murdered in the Saudi consulate in Istanbul, a notorious killing for which the "the state of Saudi Arabia" was responsible according to the UN.
Amnesty has written to 18 companies (see full list below) warning businesses and investors operating - or planning to operate - in Saudi Arabia, that they may be at risk of "causing, contributing to or otherwise being linked to serious human rights abuses", as well as "risking the safety of business associates in the country". 
Depending on the nature of their business, the letter explains, human rights issues may include discrimination against women, the violation of migrant workers' rights, unlawful surveillance and data gathering, forced evictions in connection to housing and development projects, as well as possible complicity in war crimes in the conflict in Yemen. Amnesty's letter, written by its UK Director Kate Allen, urges businesses to put in place "a thorough human rights due diligence" process, with firms reminded that they have a responsibility to respect human rights under international standards applicable to companies.
The intervention follows Amnesty's repeated warnings this year that a proposed Saudi buyout of Newcastle United Football Club represented a reputational risk to the Premier League as well as a clear attempt by the Saudi government to sportswash its human rights record.
Kate Allen, Amnesty International UK's Director, said: 
"The stampede to do business in Saudi Arabia mustn't involve dirty deals that turn a blind eye to human rights violations. 

"Saudi Arabia likes to present itself as a 'reforming' country 'open for business' - but the reality is much darker, with the jailing of women's rights activists, unfair trials and grisly public executions.

"British firms do business in Saudi Arabia at their reputational peril if they fail to properly ensure that their transactions, their partnerships and their Saudi supply chains are truly free of human rights abuse.

"Saudi business figures have themselves been on the receiving end of some of the abuses occurring under Mohammed bin Salman's authoritarian leadership. UK businesses should tread carefully if they set foot in Riyadh."
Ritz-Carlton Hotel purge
In late 2017, hundreds of people were detained in an anti-corruption "purge" of Saudi business figures, government ministers and princes. Many were detained at the Ritz-Carlton Hotel in Riyadh, with reports that some were tortured or otherwise coerced into making large cash payments to the authorities.
Jailed women's rights activists
Saudi Arabia has publicised the fact that a third of delegates to the B20 are women (the highest ever proportion), and the summit will feature what it calls an "action council" on women in business. "Gender diversity is good for business", says the summit's website.
Yet the event comes against the backdrop of a continuing crackdown on leading Saudi women's rights activists. Currently, 13 women's rights defenders are on trial for their activism. Several face charges of contacting foreign media or international organisations, including Amnesty. Some are accused of "promoting women's rights" and "calling for the end of the male guardianship system". Of the 13 women, five remain in detention: Loujain al-Hathloul, Samar Badawi, Nassima al-Sada, Nouf Abdulaziz and Maya'a al-Zahrani.
Executions at record level
Saudi Arabia executed 184 people last year. Only two countries in the world - China and Iran - executed more people during 2019. Some of the executions in Saudi Arabia were clearly a political weapon used against dissidents from the country's Shi'a Muslim minority. For example, on 23 April 2019, there was a mass execution of 37 people, 32 of them Shi'a men, many of whom were convicted on "terrorism" charges after trials that involved confessions extracted through torture. For more information on the human rights situation in Saudi Arabia, go here.
Letter to UK companies
Amnesty's letter (available on request) has been sent to the following UK companies and international companies with a presence in the UK: Standard Chartered (UK), HSBC (UK), PwC (UK), GSMA (UK); Mayer Brown, Air Products and Chemicals, McKinsey & Company, Ericsson, SEB Group, Novartis, Lazard Gulf Ltd, BBVA, Generali, Tata Sons, Vestas Celtic, Total, Siemens, and Globant. 
 
Downloads