Pakistan: Christian man sentenced to death under blasphemy law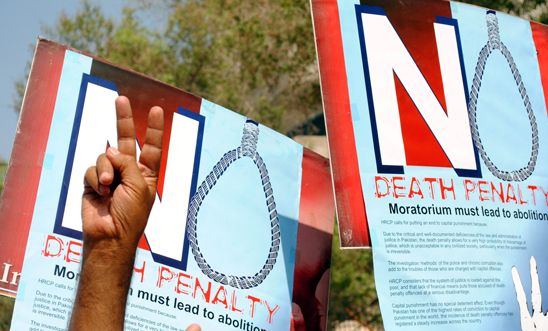 Death penalty protest in Pakistan in 2013 © Rajput Yasir / Demotix
The Pakistani authorities should immediately release a Christian man sentenced to death yesterday under the country's draconian blasphemy laws and quash his conviction, Amnesty International said.
Savan Masih, a Christian road sweeper from Lahore, was sentenced to death by hanging for blasphemy and fined 200,000 rupees. He was arrested on 6 March 2013 after a friend accused him of making blasphemous remarks during an argument.
 
Amnesty International's Deputy Asia Pacific Director David Griffiths, said:

"This is a travesty of justice.

"It sheds light on discrimination against Christians and other religious minorities through blasphemy laws and Pakistan's justice system in general.

"There are serious concerns about the fairness of his trial, and an argument between two friends is not a basis for sending anyone to the gallows.

"Savan Masih must be released immediately and unconditionally."
The vague formulation of the blasphemy laws, along with inadequate investigation by the authorities and intimidation by mobs and some religious groups, has promoted vigilantism across Pakistan, especially in the northeastern state of Punjab.
Savan Masih's arrest provoked a two-day riot in his neighbourhood in Lahore, known as Joseph Colony, when a 3,000-strong mob burned the homes of around 200 Christians.
Police were warned of the impending attack but failed to take adequate measures to protect the community. Although dozens of the suspected perpetrators have been charged, nobody has yet been convicted.
 
Amnesty International's Deputy Asia Pacific Director David Griffiths, said:

"A riot should never have been allowed to effectively destroy of one of Lahore's oldest Christian neighbourhoods.

"Savan Masih's harsh treatment under the law is in stark contrast to how others suspected of deliberately burning down people's homes have not yet been brought to trial.

"Failure to do so will effectively send the message that anyone can commit outrageous abuses and excuse them as defence of religious sentiments."
All of the individuals responsible for the attacks on Christian homes must be brought to justice in fair trials without recourse to the death penalty.
Blasphemy is punishable by death under Pakistani law, even though it does not meet the threshold of the "most serious crimes", which are the only crimes for which the death penalty can be imposed under international law.
The news comes the day after Amnesty published its global death penalty report, which showed a 'Sharp spike' in global executions last year. Pakistan sentenced more than 226 people to death last year, but no one was actually executed in 2013, despite attempts to resume executions in August.