Death sentences and executions around the world in 2013
Iranian soldiers watch a man being hanged in Shiraz, south of Tehran © AFP/Getty Images
Executions around the world rose sharply in 2013, as a handful of countries executed significantly more prisoners.
An increase in executions by a small minority of countries that continue to buck international trends moving away from the death penalty meant that we recorded more executions in 2013 than for each of the previous four years. See our infographic charting the death penalty in 2013
We know at least 778 people were executed in 22 countries around the world in 2013.
The number of verified executions rose by almost 15% compared with last year, as a minority of states killed nearly 100 more prisoners than recorded in 2012.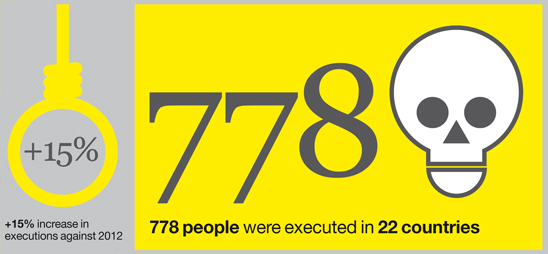 The people missing from this report
Every year we publish the minimum figures of recorded death sentences and executions that we are able to verify. These figures are a base minimum: governments like China and North Korea hide how and when they use the death penalty; some states simply don't record information around executions and death sentences; others like Syria are in a state of conflict, so figures are unknown.
We do not publish numbers of executions in China, which continues to execute more people than the rest of the world combined, as it is impossible to obtain accurate information while China's use of the death penalty remains a state secret.
Credible reports suggest that once again China executed thousands of people in 2013. Chinese state officials claim that executions have decreased in recent years, but while they continue to actively hide the numbers of prisoners they kill and sentence to death, it is impossible to validate this claim.
Killer states
Five states continued to surpass all others in executing their prisoners:
1. China - Thousands, exact numbers unknown

2. Iran - 369 minimum

3. Iraq - 169 minimum

4. Saudi Arabia - 79 minimum

5. USA - 39
Iran, Iraq and Saudi Arabia accounted for nearly 80% of all reported executions around the world.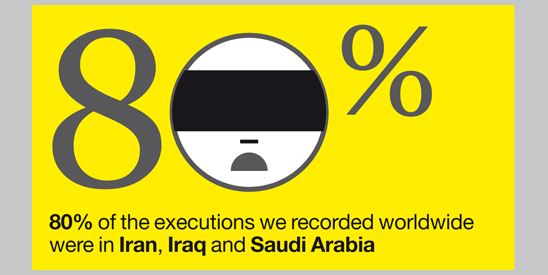 Some countries restarted executions. Indonesia, Kuwait, Nigeria and Vietnam all took steps backward by executing prisoners after refraining from doing so for at least a year.
Some countries expanded their use of the death penalty. Algeria and Bahrain expanded domestic laws to make more crimes punishable by execution.
Nearly halfway to a world without executions
98 countries have abolished the death penalty - thats nearly half of all states in the world. And despite an increase in executions worldwide, there was real progress. The slow progression towards worldwide abolition continued.
Belarus, the last country in Europe and Central Asia to use the death penalty, didn't execute for the first time in four years. Death rows in Guatemala, Grenada and St Lucia were empty for the first time since we began keeping records.
Some states made legal moves towards abolition. In the USA, the state of Maryland voted to do away with the death penalty. Pakistan suspended its application of the death penalty and did not execute. African states like Benin, Comoros, Ghana, Liberia and Sierra Leone began reviewing their laws with the opportunity to abolish the death penalty.
The people represented by these figures
Li Yan, domestic violence victim sentenced to death in China
Li Yan was repeatedly beaten and abused by her husband. He stubbed cigarettes out on her face and cut off one of her fingers. After she had been hospitalised by him she asked the police and other authorities for help but each time they ignored her calls. When Li Yan in defence beat her husband, he died. The authorities who had refused to help her sentenced her to death. She remains on death row in China.
Habibollah, hanged for political reasons in Iran
Habibollah Golparipour, a member of the Kurdish minority community in Iran, was arrested in 2009 on charges of 'emnity against God' for his alleged cooperation with a banned political group. He was sentenced to death at a trial that lasted just five minutes. He was hanged in October 2013.
'Abdullah and Safa, tortured into confessing in Iraq
'Abdullah 'Azzam Saleh Musfer al-Qahtani and Safa Ahmad 'Abul'aziz 'Abdullah were arrested for their part in a six-man robbery on a goldsmith's shop in which the owners were killed. The six accused men 'confessed' to terrorism charges, but later retracted their confessions claiming they'd been repeatedly tortured in detention and forced to make the declarations. According to the men's lawyer, 'Abdullah was in detention and Safa was not in Iraq when the robbery took place. Their four co-defendants were executed in April 2013; both 'Abdullah and Safa remain on death row in Iraq.
Mabruk, sentenced without evidence in Saudi Arabia
Mabruk bin Ali al-Sai'ari was sentenced to death at separate trials in 2007 and 2012 for armed murder and robbery, based only on a testimony from one witness, plus statements from the murder victim's relatives. Four of the victim's relatives each made 13 statements - so 52 oaths were brought against Mabruk. None of the relatives had seen the alleged crime. He remains on death row in Saudi Arabia.
John, schizophrenic executed in the USA
John Ferguson was diagnosed with severe schizophrenia and hospitalised in a maximum security psychiatric hospital for being a danger to himself and others. However, he was released a few years after being admitted. Within three years of his release from the secure unit he was found to have committed murder and sent to Florida's death row. According to the US Constitution and international laws around the death penalty, it is forbidden to execute prisoners with a mental illness. John was lethally injected in August 2013.
Use of the death penalty in 2013 in numbers

Downloads