Lebanon: recent violent crackdown on protesters must be investigated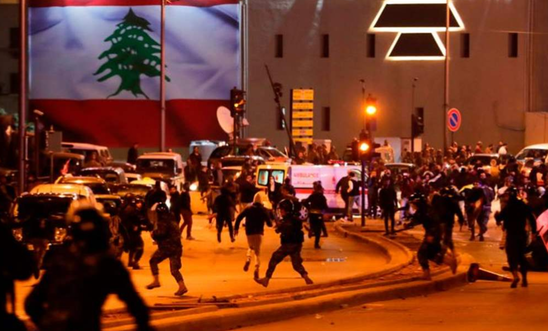 Protesters last Saturday were baton-charged and beaten © Getty Images
Peaceful protesters baton-charged and bombarded by tear gas - individuals chased down streets and severely beaten
Tactics mark return to heavy-handedness of first days of protests
'They were beaten all around their bodies, leaving them swollen from head to toe' - hospital doctor describing the injured
The Lebanese authorities must launch a thorough, independent investigation into last Saturday's violent crackdown on largely peaceful protesters - the most aggressive since nationwide anti-government demonstrations began two months ago, Amnesty International said today. 
Anyone found to have been responsible for the unlawful force - including the brutal beating of protesters and large-scale use of tear gas - must be brought to account through criminal or disciplinary proceedings.
Events on Saturday resembled the first few days of the protests, when security forces used excessive force to disperse protesters - firing huge amounts of tear gas into crowds, and chasing protesters down streets and alleys at gunpoint and beating them. Low-level clashes between protesters and security forces also took place on Monday and Tuesday evening, with police using tear gas against protesters throwing stones, water bottles and fireworks. 
Amnesty staff observed the protests on the ground, spoke to seven eyewitnesses, including two who were wounded, and reviewed video footage and images of tear gas being fired at demonstrators.  
At 6pm on Saturday, peaceful protesters - including elderly people and children - gathered in Nejmeh Square outside Beirut's parliament building. According to several accounts given to Amnesty, at around 7pm riot police and men in civilian clothing armed with batons charged into the crowd, chasing and beating protesters. This was followed by a battery of tear gas canisters. Dozens of people were injured as a result of beatings and tear gas inhalation. Protesters were then chased by police for more than a mile along a nearby main road. 
The Lebanese Red Cross told Amnesty they treated 33 cases at the scene and took ten injured people to hospitals on Saturday night. The Lebanese Civil Defense medical service said it treated 72 people for injuries on the ground and took 20 others to hospital. Amnesty interviewed one of the emergency doctors at a nearby hospital, who said that approximately 25 injured protesters were admitted on Saturday night. Injuries were largely the result of beatings, including broken teeth, wounds requiring stitches and severe bruising. One young woman who had been beaten had blood inside her lungs. 
Three people arrived at the emergency room without identification. According to the doctor: 
"They said the police took their identification papers and then they beat them up. They were beaten all around their bodies, leaving them swollen from head to toe."
Parliamentary police also dragged a number of protesters in Nejmeh Square behind barriers and subjected them to beatings. One injured protester described to Amnesty how he was protecting other protesters from beatings when he was taken by riot police behind the barriers. He said they tied his hands behind his back and beat him for around 20 minutes until he couldn't stand up.
On Sunday, the Lebanese Caretaker Interior Minister Raya Al-Hassan warned against "infiltrators" seeking to use protests to spark "confrontations", saying protesters should leave "for their own protection." She announced an internal investigation into Saturday's violence.  
Lynn Maalouf, Amnesty International's Middle East Director of Research, said:  
"While the caretaker Minister of Interior has announced an internal investigation, only an independent criminal investigation by the Public Prosecution can deter future excessive use of force. 

"Since the beginning of the protests two months ago, security forces have resorted to unnecessary and excessive force against peaceful protesters on a number of occasions. But the unprovoked crackdown we witnessed on Saturday is by far the most virulent we have seen so far."
Massive use of tear gas
According to Amnesty's weapons expert, images of tear gas canisters found on Saturday were of 56mm CM4 tear gas grenades, manufactured by the French company SAE Alsetex in October 2007.
One protester, Sara, told Amnesty: 
"The tear gas was being shot one after the next. At first, four [canisters] at a time, and then they became like fireworks as when we were kids. People were throwing up, others saying 'drink water', 'smell onions', 'vinegar'. No-one knew what was happening."
Another activist described to Amnesty how he woke up the next day still coughing because of the tear gas. He said: 
"The amount of tear gas was ridiculous. It was like someone shooting with a machine gun. Tear gas canisters were falling one after the other."