Hong Kong: Prominent DJ 'Giggs' given jail sentence for criticism of authorities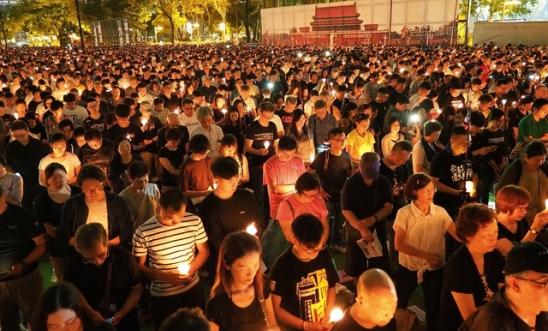 © CC/Etan Liam
DJ and political commentator Edmund Wan sentenced to two years and eight months for 'sedition' and alleged money-laundering
Hong Kong authorities are using colonial-era sedition charges to stamp out dissent
'It is difficult to believe his imprisonment is anything other than politically motivated' - Gwen Lee
Responding to the Hong Kong online radio DJ and political commentator Edmund Wan, (better known as "Giggs") being sentenced to two years and eight months in prison for "sedition" and alleged money laundering, Gwen Lee, Amnesty International's China Campaigner, said:
"With this reprehensible jailing of a DJ who dared to speak his mind and finance young protesters' education, the Hong Kong authorities appear to be expanding the range of tools they use to target people whose views and actions they object to. 

"In addition to becoming the latest government critic imprisoned on a colonial-era 'sedition' charge, Edmund Wan has also been convicted of money laundering despite the prosecution providing little evidence against him.

"Activists in Hong Kong no longer only fear the draconian National Security Law; increasingly, they are also being targeted with a range of other charges that can be abused to punish them.

"It is difficult to believe that his imprisonment is anything other than politically motivated.

"The authorities must release Edmund Wan and drop all charges against him unless they demonstrate sufficient credible and admissible evidence that he has committed a criminal offence." 
Sedition charges
Wan, the host of four shows on an independent online radio station in Hong Kong, has been a frequent critic of the Hong Kong and Chinese authorities.
In February 2020, he started a fundraising project to sponsor the education of a group of young Hong Kong people who fled to Taiwan when the Hong Kong government arrested tens of thousands of people who took part in the city's 2019 mass protests. 
On 21 November that year, Wan was arrested under Hong Kong's notorious National Security Law. On 8 February 2021, he was charged with four counts of "acts with a seditious intention" under colonial-era sedition laws, and on 10 May was further charged with five counts of money-laundering and one count of "conspiring to commit an act with a seditious intention". The "seditious intention" charges concerned his criticism of the Hong Kong Chief Executive and the Chinese Communist Party on his radio shows and in his social media posts. He has already been detained for over 18 months.
In May this year, the prosecution reached a plea deal with Wan under which six of the ten charges he faced would not be pursued now but kept on file if he pleaded guilty to the remaining charges and agreed to the prosecution's application to confiscate the proceeds of his crowdfunding project. 
Since 2020, the Hong Kong government has been using colonial-era sedition charges to stamp out dissent. People charged with sedition have faced some of the same draconian measures as those targeted under the National Security Law, which came into force in June 2020.