G7 summit: Nazanin Zaghari-Ratcliffe and other dual-nationals held in Iran must be urgently discussed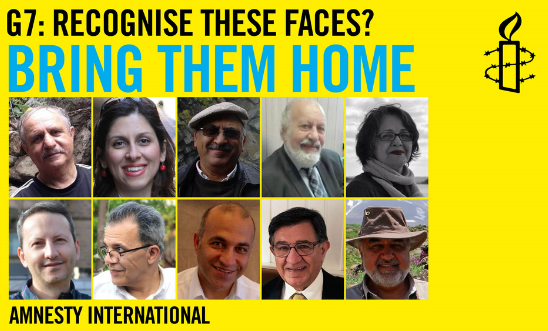 Image of ten individuals from UK, Austria, Australia, Germany and Sweden published alongside message 'Recognise these faces? Bring them home'
Gabriella Ratcliffe's seventh birthday coincides with first day of summit
'The families of Nazanin Zaghari-Ratcliffe, Anoosheh Ashoori and others are looking for a step-change' - Lydia Parker
Amnesty International has called on leaders at this weekend's G7 meeting (11-13 June) to urgently discuss measures on how to take forward an international strategy to ensure all dual-nationals arbitrarily detained in Iran are released as soon as possible.
The Canadian government recently initiated a "partnership action plan" to support collaborative efforts between countries whose nationals are being arbitrarily detained and used as leverage. This is due to be discussed at the G7 summit, this year being held at Carbis Bay in Cornwall.
Amnesty has previously raised concerns that the treatment of some of the arbitrarily-detained dual-nationals in Iran may be part of a wider pattern by the authorities to exert diplomatic leverage. 
As the G7 gets underway, Amnesty is drawing attention to the plight of ten individuals: Austrian-Iranians Kamran Ghaderi and Massud Mossaheb; Australian-Iranian Shokrollah Jebeli (held in pre-trial detention); German-Iranians Nahid Taghavi and Jamshid Sharmahd; Swedish-Iranian Ahmadreza Djalali; and four UK-Iranians: Nazanin Zaghari-Ratcliffe, Anoosheh Ashoori, Mehran Raoof and Morad Tahbaz (who is also a US national).
Amnesty - which has published a composite image of the ten with the message "Recognise these faces? Bring them home" - is pressing G7 members to move ahead with urgent discussions on intended measures to secure their release. The recent G7 foreign and development ministers meeting agreed that arbitrarily-detained foreign nationals in Iran needed to be released, but provided no details on how this was to be achieved.
Richard Ratcliffe, whose daughter Gabriella's seventh birthday coincides with the start of the G7 meeting, said:
"I believe the international community has allowed the problem of state hostage-taking to fester for too long. In Iran it still continues to grow - even featuring as a policy proposal in this week's presidential debates.
"Back in February, the Foreign Office identified the G7 as a time when the international community could come together over Cornish teas and develop some real mechanisms to end this insidious practice and the torture it puts innocent families through. We are looking forward to seeing the fruits of these conversations.

"I consider this week to be a chance for Boris Johnson to discuss Nazanin's case personally with President Biden and agree what needs to be done to bring the British, American and other unjustly jailed foreign or dual nationals home from Iran.

"Today marks Gabriella's seventh birthday. It's the sixth birthday in a row where she's been separated from Nazanin. We've all been left hanging for too long."
Lydia Parker, Individuals at Risk Campaigner at Amnesty International UK, said:
"For too long we've seen piecemeal efforts from our Government and others to address the growing scourge of the Iranian authorities arbitrarily detaining hundreds of individuals, including dual- nationals.

"The families of Nazanin Zaghari-Ratcliffe, Anoosheh Ashoori and others are looking for a step-change in the UK's failed strategy to secure their loved ones' freedom.

"At the G7, the UK needs to inject urgency into its efforts to secure the release of its arbitrarily-detained nationals, including by joining forces with other countries whose nationals are also arbitrarily held in Iran. We need concerted international pressure from as many countries as possible."
Nazanin Zaghari-Ratcliffe
In April, UK-Iranian Nazanin Zaghari-Ratcliffe, 42, was given a further one-year jail sentence - with a one-year travel ban - for "spreading propaganda against the system" after a grossly unfair trial before a Revolutionary Court in Tehran directly upon the completion of her first five-year sentence, also imposed after a grossly unfair trial. Her family reports that she has been told repeatedly that she is being held by Iran for leverage in a financial dispute with the UK. The UK Foreign Secretary has described Iran's treatment of Zaghari-Ratcliffe as "amounting to torture".
'Failure of diplomacy'
There are longstanding concerns that the UK government has failed to prioritise Zaghari-Ratcliffe's case or the cases of other UK nationals held in Iran. At the time of her 2016 arrest, UK officials advised Zaghari-Ratcliffe's family they should remain quiet about the detention. Earlier this year, Richard Ratcliffe was similarly told by officials he should stop talking publicly about his wife's anticipated release date. UK officials have also failed to attend Nazanin's court hearings, failing in their duty to assert her right to consular assistance. More generally, Mr Ratcliffe has labelled the UK's inability to secure his wife's freedom a "failure of diplomacy".
Diplomatic leverage
Amnesty fears Zaghari-Ratcliffe's treatment is part of a wider pattern by the Iranian authorities of using jailed UK nationals for diplomatic leverage, as previously stated by the UN Special Rapporteur on the situation of human rights in Iran, a tactic the UK foreign secretary has condemned. The Austrian-Iranian mechanical engineer Massud Mossaheb and the Swedish-Iranian medical academic Ahmadreza Djalali are among those currently jailed following grossly unfair trials, while Amnesty has also highlighted the case of UK-Iranian Mehran Raoof, a trade union activist arbitrarily detained since October, as well as the UK-USA-Iranian conservationist, Morad Tahbaz.
Amnesty is also renewing its calls on the Iranian authorities to immediately and unconditionally release all those arbitrarily detained solely for the peaceful exercise of their human rights, and to release all others convicted in grossly unfair trials, held without legal basis, or convicted or held pending trial for acts that do not constitute crimes under international law.
G7 topics
Topics to be discussed at the G7 meeting include the climate emergency and the coronavirus pandemic. Amnesty is calling on all countries to urgently raise their ambition on climate action, including by committing to plans to end fossil fuel subsidies and to increase climate finance. Amnesty is also calling on G7 leaders to support a temporary waiver of global intellectual property rules that will help boost global access to COVID-19 vaccines.