Fresh call for UK to suspend arms to Israel after resumption of hostilities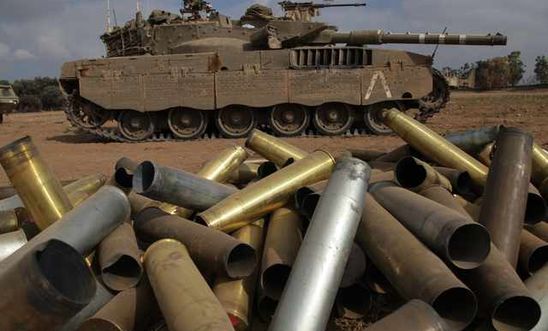 'Ministers should stop re-writing their own rules and remember they're supposed to be stopping … human rights violations'
With a resumption in hostilities in Gaza and Israel since the collapse of the ceasefire earlier this week, Amnesty International has renewed its call on the UK government to immediately suspend all arms export licences for Israel.
Last week the government announced the suspension of just 12 export licences for arms and other military equipment to Israel, and only if "significant hostilities" resumed after the ending of any ceasefire. This represented a significant weakening of the government's own rules which stipulate that arms should not be supplied where there is a clear risk they might be used for serious violations of international law.
Since the UK government's announcement on 12 August, Palestinian groups have fired rockets into Israel while the Israeli military has mounted numerous deadly attacks on Gaza. Yesterday the Israeli military said its aircraft had attacked more than 30 sites across Gaza.
For weeks Amnesty has been calling for an immediate suspension of all UK arms transfers to Israel - as well as for pressure to be exerted on those supplying Palestinian groups in Gaza with munitions. Last year the UK sold £6.3m of arms to Israel - in the past, UK-supplied equipment has been used by the Israeli military to commit human rights violations in Gaza.
According to United Nations estimates, over 2,000 Gazans have died in this summer's hostilities - the majority civilians - including nearly 500 children, while hundreds of thousands of people have been displaced. Three civilians have been killed in Israel and dozens injured by rockets or shrapnel, and 64 Israeli soldiers have also been killed. Since the collapse of the ceasefire on 19 August over 200 rockets have been reportedly fired at Israel while Israeli strikes on Gaza have reportedly killed more than 50 people, most of them civilians.
Amnesty International UK Arms Control Programme Director Oliver Sprague said:
"Government ministers seem to have taken leave of their senses and their principles on this. 

 

"Instead of coldly saying there needs to be 'significant hostilities' before they'll even look at this again, ministers should stop re-writing their own rules and remember they're supposed to be stopping arms going to places where there's a clear risk they'll be used to commit human rights violations.

 

"With hundreds of Gazan civilians already dead, what more evidence does the UK need? 

 

"Israeli aircraft are once again attacking densely-occupied sites in Gaza and the death toll is once again mounting - what will it take for the UK to finally suspend all licences for arms exports to Israel?

 

"There should be an immediate suspension of all arms sales to Israel, and the UK should press strongly for a UN arms embargo against Israel, Hamas and other armed Palestinian groups."
Call on Philip Hammond
Amnesty's call on the Foreign Secretary Philip Hammond - which has so far won the support of over 57,000 people - is at
www.amnesty.org.uk/gaza
.