The Nigerian military, including senior commanders, must be investigated for the deaths of more than 8,000 people murdered, starved, suffocated, and tortured to death.
Tasked with combatting the militant Islamist group Boko Haram in north-east Nigeria, military forces have executed ad tortured thousands, mostly young men and boys.
Our findings are based on years of research and evidence, including leaked military reports and interviews with more than 400 survivors, eyewitnesses and senior members of the Nigerian security forces.
Amnesty say they've viewed & verified 90 videos showing Nigeria Military & allied militia commit human rights abuses pic.twitter.com/tHBun1QNgm

— Christian Purefoy (@purefoyAMEBO) June 3, 2015
We have specifically named the high-ranking military officials who should be investigated for the war crimes of murder, torture and enforced disappearance.
These violent acts are war crimes, and possible crimes against humanity, which military commanders must bear responsibility for.
#Amnesty International report names 9 senior military who shld be investigated for war crimes https://t.co/kT5XFg6clm pic.twitter.com/NGWL4lBjlE

— Stefan Simanowitz (@StefSimanowitz) June 3, 2015
Death in custody
In response to Boko Haram's attacks in the north-east, the Nigerian military have arrested at least 20,000 young men and boys since 2009, some as young as nine years old.
Most are arbitrarily arrested, often based solely on the word of a single unidentified secret informant and in mass raids where security forces round up hundreds of men.
They are held in overcrowded, unventilated cells without sanitary facilities and with little food or water. Many are subjected to torture and thousands have died as a result of dire conditions.
'All I know was that once you get detained by the soldiers and taken to Giwa [military barracks], your life is finished.'

A former detainee
We visited a mortuary in Maiduguri, north-east Nigeria, after 20 dead bodies were taken there by soldiers from Giwa barracks.
Upon arrival at the mortuary at around, our team saw 15 bodies, half naked and uncovered, lying outside in the mortuary compound and another five bodies lying behind a half-closed door inside the mortuary.
The bodies had no visible gunshot wounds but nearly all had visible burn scars. Some of the dead bodies still had their elbows tied behind their backs and the rope marks left by the ropes were still visible. They looked emaciated and may have been subjected to various forms of ill treatment before they died.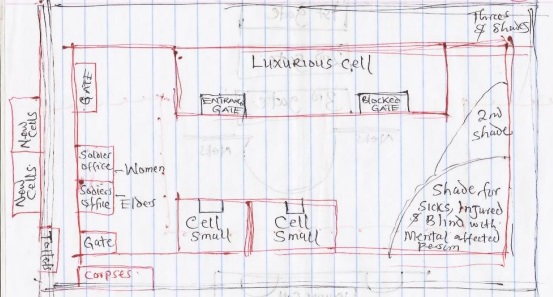 Sketch of Giwa barrack detention facility, Northern Nigeria, 2015. © Private.
At its peak, Giwa barracks – which was not built as a detention facility – was accommodating more than 2,000 detainees at one time.
Former detainees described the inhuman conditions which led to the death of tens of detainees a day. Overcrowding was extreme and they had to take turns sitting down and sleeping.
In order to combat the spread of disease and stifle the stench, cells were regularly fumigated with chemicals.
'Many Boko Haram suspects died as a result of fumigation. They fumigated with the chemicals you use for killing mosquitoes. It is something very powerful. It is very dangerous.'

A military officer
Executions
More than 1,200 people have been unlawfully killed by the military. Many of these killings appear to be reprisals following attacks by Boko Haram.
A senior military official told us that such killings were common:
'[Soldiers] go to the nearest place and kill all the youths… People killed may be innocent and not armed.'
The highest levels of Nigeria's military command, including the Chief of Army Staff and Chief of Defence Staff, were regularly informed of these operations.
Leaked internal military documents show that they were updated on the high rates of deaths among detainees through daily field reports, letters and assessment reports sent by field commanders to Defence and Army Headquarters.
Justice
The Nigerian authorities have downplayed accusations of human rights abuses by the military for years. We're calling on newly-elected President Buhari to make sure those responsible are held to account, no matter their rank or position.
'For years the Nigerian authorities have downplayed accusations of human rights abuses by the military. But they cannot dismiss their own internal military documents. They cannot ignore testimonies from witnesses and high-ranking military whistle blowers. And they cannot deny the existence of emaciated and mutilated bodies piled on mortuary slabs and dumped in mass graves.'

Salil Shetty, Amnesty International's Secretary General
UPDATE, 3 JUNE 2015
President Buhari has acknowledged our report and has publicly promised to look into it. We will continue to encourage his administration to break with the past and carry out an impartial, thorough investigation.
Responding to the Amnesty International report, @MBuhari said: "I assure you that your report will be looked into."

— President Buhari (@NGRPresident) June 3, 2015
"Respect for human rights and adherence to the rule of law are the life and soul of the democratic system." - @MBuhari

— President Buhari (@NGRPresident) June 3, 2015