Nigeria: One year on since Boko Haram kidnappings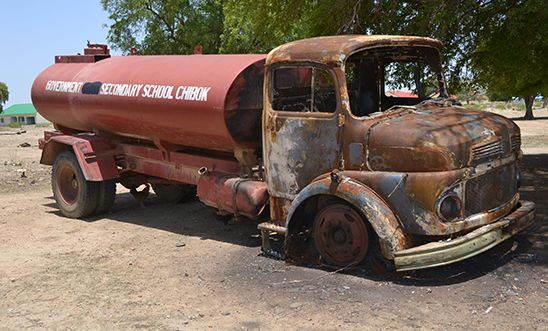 Chibok truck, Boko Haram attack in Nigeria © Private
* All names have been changed for security reasons.
One year ago, 276 schoolgirls were kidnapped by armed group Boko Haram in Chibok, Nigeria – most of the girls have not been seen since.
The missing schoolgirls are a small proportion of the women, girls, young men and boys abducted by Boko Haram, who have wreaked havoc and suffering on the lives of millions of people in north-east Nigeria since 2009.
Through killings, bombings, abductions, looting and burning, Boko Haram has crippled normal life in north-east Nigeria.
Towns and villages have been pillaged. Schools, churches and mosques have been attacked and destroyed.
Abducted and forced to kill
Many young women and girls are abducted, forced into sexual slavery and trained to fight, sometimes in attacks on their own towns and villages.
Boko Haram take the women and girls they abduct directly to camps in remote communities or to makeshift camps, where they later indoctrinate with their version of Islam in preparation for marriage.
After taking control of a town, Boko Haram enforces their rules with harsh punishments. A woman who spent five months under Boko Haram control told us how she had seen a woman given 30 lashes for selling children's clothes and a couple executed publicly for adultery.
A 15-year-old boy from Bama told us he had witnessed ten stonings:
'They will gather all the children and ask them to stone. I participated in the stoning… They will dig a hole, bury all the body and stone the head. When the person dies, they will leave the stones until the body decays.'
Kidnapped on her wedding day
We spoke to 19-year-old Aisha, who told us how she was abducted from a friend's wedding, along with her sister, the bride and the bride's sister. Boko Haram took them to a camp where 100 other abducted girls were being held.
One week later, the bride and the bride's sister were forced to marry their fighters. They also taught Aisha and the other women and girls how to fight.
During the three months that she was held captive, Aisha was raped repeatedly, sometimes by groups of up to six fighters. She also saw more than 50 people killed by Boko Haram, including her sister.
'Some of them refused to convert. Some refused to learn how to kill others. They were buried in a mass grave in the bush. They'll just pack the dead bodies and dump them in a big hole, but not deep enough. I didn't see the hole, but we used to get the smell from the dead bodies when they start getting rotten.'

Aisha, 19, abducted by Boko Haram
What is Boko Haram?
Boko Haram, (translated as 'Western education is forbidden'), was established in 2002 in north-east Nigeria as a religious movement committed to a society based on its interpretation of Islam.
After violent clashes with the Nigerian security forces in 2009, during which the group's founder Muhammed Yusuf was extra-judicially executed, the group began a series of revenge attacks against the police. Boko Haram's attacks increasingly targeted civilians, and from 2012 the group attacked schools, teachers and students to prevent people from receiving a western education.
In 2013, state security forces pushed Boko Haram out of the cities and towns of north-east Nigeria where they had lived among the population. They moved to remote communities and camps, such as their headquarters in Sambisa forest, Borno state.
From these bases, Boko Haram launched almost daily attacks against civilian targets. In 2014 Boko Haram killed more than 4,000 people, although the true figure is almost certainly higher.
What we're calling for
We're calling on Boko Haram to stop killing civilians and the Nigerian government to take all possible legal steps to ensure their protection and restore security in the north-east.
The international community should also continue to assist the new government of Nigeria in addressing the threat posed by Boko Haram.
'The change of government in Nigeria provides an opportunity for a new approach to security in Nigeria after the dismal failure of recent years.

'The abducted must be rescued, war crimes and crimes against humanity must be investigated. Bodies must be disinterred from mass graves, further killings must be prevented and those guilty of inflicting this unspeakable suffering must be brought to justice.'

Salil Shetty, Amnesty International's Secretary General