The story behind the Boko Haram satellite images
This week we released satellite images that show the impact of a horrific Boko Haram attack in northeast Nigeria last week. The images, combined with several testimonies, provide shocking evidence of how the conflict is dramatically escalating, with dire consequences for civilians.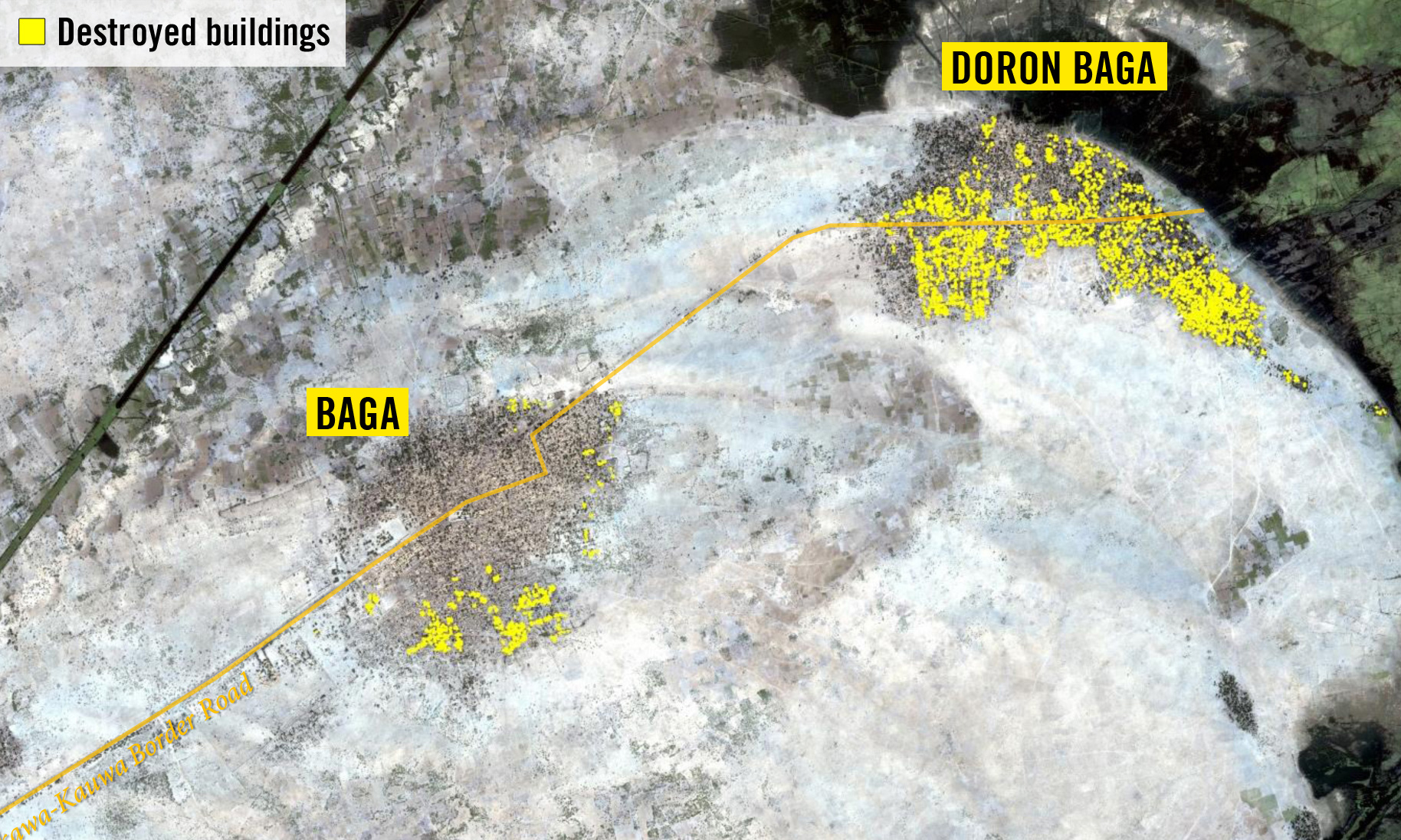 Our analysis has generated some much-needed attention on a widely overlooked massacre, creating major stories on established and new media sites.
From Joseph Kony to SOS signs, satellite images can show a lot that is relevant for human rights investigations. And no, George Clooney was not the first to use them. Here is some background on the new analysis, and on the use of satellite images in human rights investigations.
What the images reveal
In the words of our researcher: "Of all Boko Haram assaults analysed by Amnesty International, this is the largest and most destructive yet."
The scale of the destruction suggests a much higher death toll than given by the Nigerian government of 150 people. Some reports claimed that up to 2,000 people might have been killed in last weeks attack.
Over 3,700 structures in the two neighboring towns Baga and Doron Baga were damaged or completely destroyed. The damage and destruction stems from fire.
The destruction is likely higher than visible in the current satellite images. It proved difficult to delineate and confirm individual structures in some densely packed areas and under tree canopies. Additionally, the current analysis only covered two towns—other towns and villages in the area might have been affected as well.
Why we use satellite images
Our findings in Nigeria are a text book example of the added value of satellite imagery for human rights investigations.
It gives us (remote) access to an area that is largely inaccessible to independent observers such as investigators and journalists. The images allow us to cut through the fog of war and help us establishing indisputable facts, such as a damage count and a timeline of events. Additionally, the images provide compelling visual evidence that allow us to shine a much-needed light on an overlooked crisis.
How we analyse and interpret the images
In this case, the analysis is very straightforward: Two images from 2 January and 7 January, 2015, provide a before and after image, respectively, of the attack.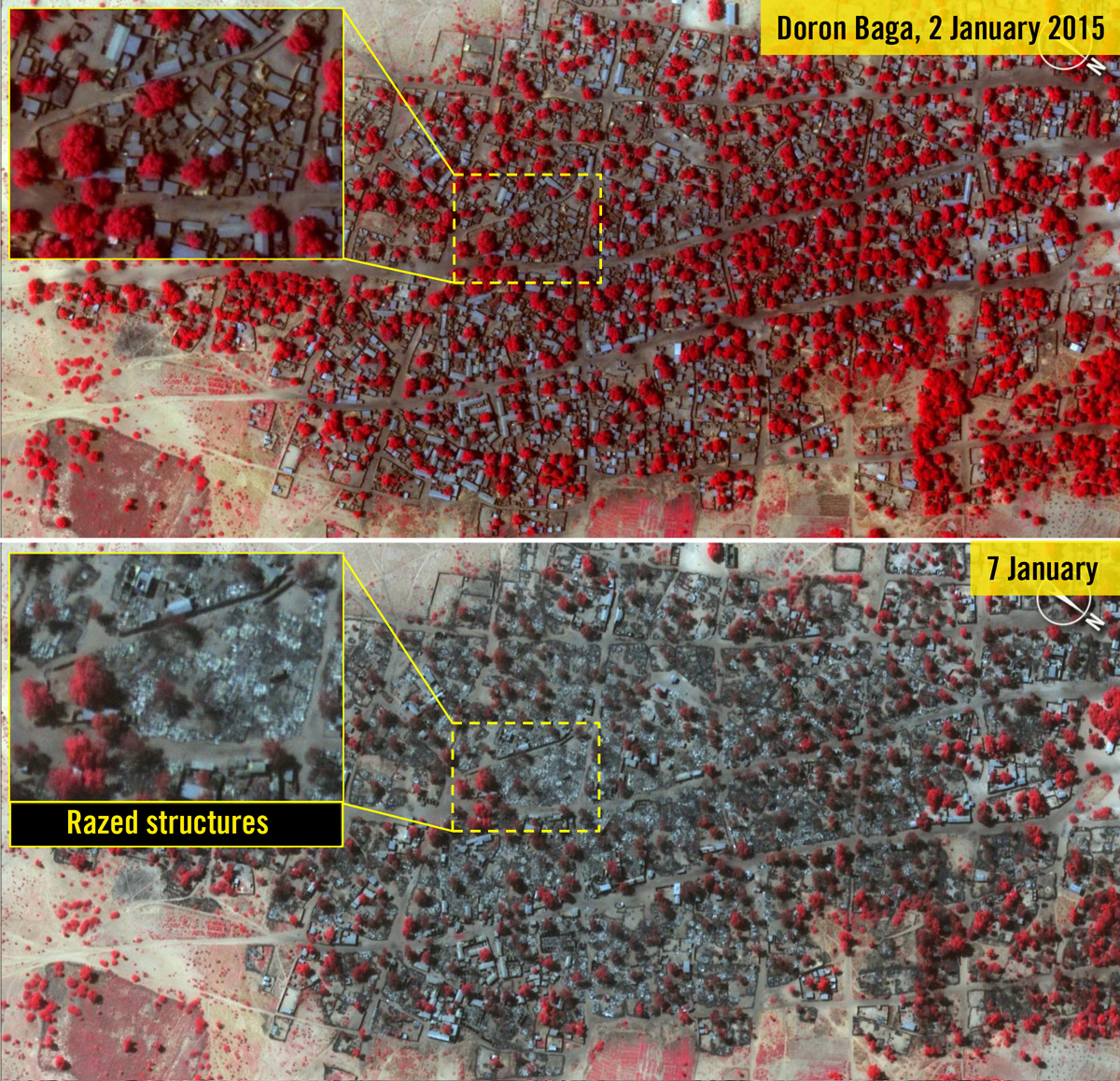 Analysts can do a simple "change detection" analysis to determine the changes over the observation period, including the exact number of structures destroyed or damaged. In this case we also used a technique called false color image analysis to better track the destruction caused by fire on houses and vegetation.
In false color imagery, healthy vegetation appears bright red (we used the same methodology to document oil spills in the Niger Delta, which helped to achieve an important victory recently when Shell paid out a long-overdue compensation to the victims). As can be seen in the two different images, the difference is quite striking, with the fire damage apparent in the after image from 7 January.
Christoph Koettl is the Emergency Response Manager at Amnesty International USA
About Amnesty UK Blogs
Our blogs are written by Amnesty International staff, volunteers and other interested individuals, to encourage debate around human rights issues. They do not necessarily represent the views of Amnesty International.
View latest posts