Nigeria: Stop the medieval witch hunt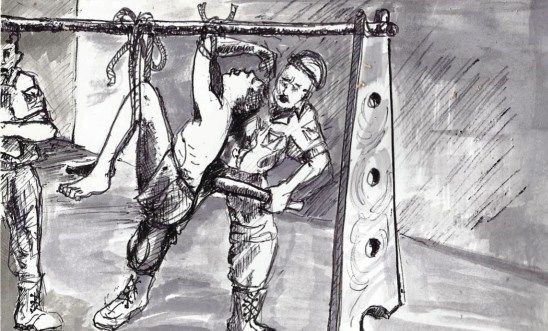 An artist's drawing depicting the suspension of a detainee from a rod. © Chijioke Ugwu Clement
Fifteen-year-old Mahmood was arrested by the army, along with 50 other people – predominantly boys aged between 13 and 19.
He was taken to the Sector Alpha military facility and tortured for three weeks. He had no contact with the outside world – including his family and lawyers.
Soldiers made him walk and roll over broken bottles and watch other detainees being extra-judicially executed.
Mahmood is just one of thousands of people tortured at the hands of the Nigerian police and military.
The reliance on 'confessions' together with a corruption-riddled justice system provides the ideal setting. In fact, torture isn't even a criminal offence in Nigeria.
'Welcome to hell fire' 
Electric shocks, sexual violence, and ripping out of fingernails and teeth with pliers are common methods of torture in Nigeria's detention centres.
Many police stations even have 'torture chambers' and an informal 'Officer in Charge of Torture'.
Chinwe, a hotel worker, was arrested by police on 31 July 2013 after a human skull and two guns were found in the hotel where he worked.
'I was thrown inside a cell. I noticed the written sign on the wall of the cell 'Welcome to hell fire' - I quickly told myself that we are in for the worst. I was taken to the interrogation room… I saw ropes streaming down from ceiling tops, bags of sand elevated on perimeter wall fence of the hall and all types of rod and metal in different shapes and sizes. I heard shouts and screams from torture victims, calling on their dead parents for help.'
Chinwe, who was detained at the Special Anti-Robbery Squad (SARS) in Awkuzu in 2013.
Why is torture rife in Nigeria?
Human rights violations by security forces have increased in recent years as military groups have been tasked with combatting the armed group Boko Haram.
Police and military forces pick up hundreds of people on their search for Boko Haram members, and then torture the suspects to extract information and 'confessions' – a process resembling a medieval witch hunt.
But it goes far beyond the search for Boko Haram members.
Across the country, torture is inflicted on men, women and children by the authorities intended to protect them, people just like Moses Akatugba.
Moses was 16 when he was arrested by the Nigerian army and tortured into signing two 'confessions'. After eight years in prison, he was sentenced to death by hanging and remains on death row today.
Thank you
Almost 14,000 of you signed our petition calling on two notorious detention centres where we know torture is taking place – the Special Anti-Robbery Squad (SARS) in Awkuzu and Sector Alpha military facility in Yobe state, known locally as 'Guantanamo'.
We're calling on both detention facilities to:
Stop the use of torture
Release detainees or charge them with an internationally recognised crime
Allow detainees access to families, lawyers and medical care
We're also targeting the Nigerian authorities on all levels to put a stop to torture and ensure that those responsible are brought to justice.
'Smacks of indecency'
In response to our campaigning, the Nigerian police force released a statement criticising our report, claiming that it 'smacks of indecency and intemperate language'.
Speaking in response to the Nigerian police force's statement, Netsanet Belay, our Research and Advocacy Director for Africa, said:
'We're disappointed that the Nigerian police force have responded to our report with allegations of indecency and lack of temperament, two descriptions better applied to their treatment of detainees.'