Myanmar's apartheid campaign against the Rohingya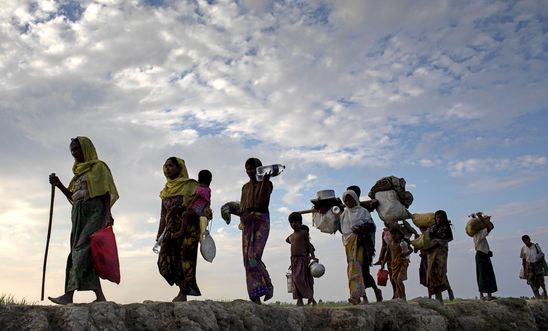 Rohingya refugees walk through a paddy field in Bangladesh in November 2017, after fleeing genocide in Myanmar's Rakhine state © K M Asad/LightRocket/Getty Images
The violence that drove more than half a million Rohingya people out of Myanmar in 2017 was the latest episode in a history of state-sponsored persecution. 
Our two-year investigation has revealed segregation and discrimination against Muslims, particularly the Rohingya, that amounts to apartheid.
In the second half of 2017, the Myanmar military unleashed a wave of violence against Rohingya civilians, killing people and burning entire villages to the ground. The atrocities carried out against the Rohingya people by the military forced many to leave their homes and flee for their lives. The situation made headlines around the world, as thousands of Rohingya refugees, many of them in a very vulnerable state, sought safety in Bangladesh.
But the persecution didn't start in 2017. Our investigation shows that the Rohingya people of Rakhine State, western Myanmar, were trapped in a web of laws, policies and practices that denied their human rights and severely restricted virtually every aspect of their lives for years before the most recent atrocities.
Rohingya: the people without rights
In 2012, repression by Myanmar authorities dramatically intensified as violence between Buddhist and Muslim communities swept Rakhine State. The authorities' response was to segregate Muslims from the rest of society.
The Rohingya are discriminated against in many ways – and they are also denied legal rights to challenge this discrimination. 
They are not allowed citizenship on the basis of their ethnicity. Many Myanmar governments have claimed that the Rohingya are 'migrants' from Bangladesh who settled in the country 'illegally', and officials refer to them as 'Bengalis'. The Rohingya, however, can point to a documented history of Muslim influence and residence in Rakhine stretching back centuries.
Rakhine State in Myanmar is home to about 3.2 million people of different ethnicities and religions. The vast majority are ethnic Rakhine, who are predominantly Buddhist; the Rohingya (predominantly Muslim) are the second largest group. Until last year's exodus, the majority of Myanmar's estimated 1.1 million Rohingya lived in northern Rakhine, with about 395,000 in other parts of the state.
All communities in Rakhine have experienced human rights violations at the hands of the Myanmar state. But the system of discrimination against the Rohingya legally constitutes apartheid, which is a crime against humanity under international law.
We are demanding that the Myanmar authorities dismantle the apartheid system. The international community must ensure that they do not support this discrimination.
Sign our petition: call on Myanmar to stop the violence against the Rohingya
No right to nationality
'We're very worried… If the babies aren't added to the household lists, they'll be stateless. Their lives will be ruined. They'll have no education, no healthcare. I don't know if they'll be able to stay in the village.'
Father of a baby boy, northern Rakhine
Myanmar's Citizenship Act of 1982 denies citizenship to Rohingya on the basis of their ethnicity. The overwhelming majority of Rohingya in Rakhine (and those who recently fled) were born in Myanmar, as were their parents.
Government authorities have deprived many Rohingya of identity documents. In Myanmar, every household is required to keep a list of residents and for many Rohingya this is their main form of documentation. In northern Rakhine, anyone not at home for the annual 'population check' risks being deleted from the list. It has become extremely difficult for Rohingya to register newborn babies on household lists.
No freedom of movement
'The Township Administrator informed us that we cannot travel around … we can only go by boat to other Muslim villages. We cannot use the road, we can go near it, and cross it to go to our paddy fields, but we cannot walk on it.'
Rohingya man, central Rakhine
All Rohingya need special permits to travel between townships, and there are security posts and checkpoints outside most towns.
In northern Rakhine, travel between villages is heavily restricted and curfews have been in force in predominantly Rohingya areas for five years. In central Rakhine, Rohingya are confined to their villages. The only way Rohingya are allowed to travel to other Muslim villages is by water.
In the state capital, Sittwe, restrictions on movement apply to all Muslims, including the Kaman, who are recognised as full citizens of Myanmar. On the town's outskirts, 94,000 Muslims, mostly Rohingya, have been living in a massive displacement camp complex for the past five years, segregated from the outside world by barbed wire. Muslims are not allowed to leave without permission, and if they do are usually accompanied by a police escort.
No right to health
'Outside Maungdaw town it is difficult to come to hospital. It's especially difficult if you have an emergency and can't meet the Village Administrator to get the approval letter. If there is an emergency at night then we cannot cross the checkpoints during the curfew.'
Rohingya man, northern Rakhine
In northern Rakhine, checkpoints and the requirement for travel permits delay access to hospitals and clinics. Elsewhere, only a few hospitals are open to Rohingya and they are segregated in 'Muslim wards' guarded by police.
No right to education 
'We asked the Township Education Officers if our children could go to the government school, but he said no. The headmaster…told us that Rakhine and Rohingya students cannot be in the same school any more'
Rohingya community teacher, central Rakhine
In 2012 the authorities tightened restrictions on Rohingya access to education. In large parts of Rakhine, Rohingya children are no longer allowed into previously mixed government schools. Government teachers refuse to come to schools in Muslim areas. Instead, students attend community schools staffed by untrained volunteers. Higher education is largely off limits for Rohingya.
No freedom of religion
'Many of the mosques and madrasas have been closed since 2012. It makes it difficult for us to pray together and to teach the children.'
Religious leader, northern Rakhine
Muslim communities in Rakhine cannot freely practise their faith. In northern Rakhine, a ban on gatherings of more than four people prevents Rohingya from worshipping together. Across Myanmar, it is very difficult for Muslim communities to get permission to repair religious buildings.
No right to participate in public life
'Now, we have no voice in the state parliament or involvement in the Union level parliament. Rohingya civil society in the country is pretty much non-existent. We don't have freedom to come together and mobilise.'
Rohingya activist
Hundreds of thousands of Rohingya were denied the right to vote in the 2015 general election, because of their lack of citizenship. All Rohingya candidates who applied to contest that election were disqualified.
 
Segregation and movement restrictions make it almost impossible for Rohingya and other Muslims to gather, mobilise and advocate collectively. People who speak out risk arrest, detention and torture.
Want to do something?
Sign our petition and tell Myanmar authorities to stop the violent persecution of the Rohingya
Amnesty Magazine
This article originally appeared in Issue 197 of Amnesty Magazine. To receive your free copy every quarter featuring all the latest news and opinion about human rights become a member today for only £3 a month. Join Amnesty