Let's celebrate the Brave in 2020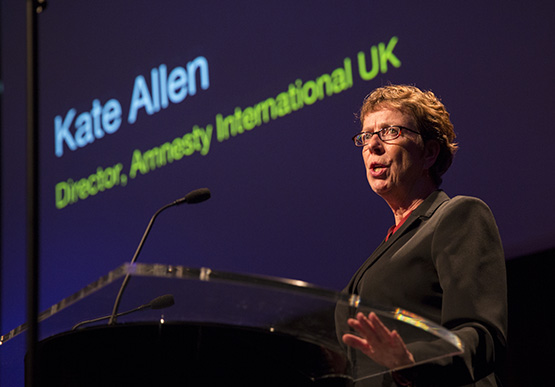 By Kate Allen, Director of Amnesty UK
Last year was a hard year to be brave. Across the globe we witnessed a full-frontal assault by governments, armed groups, corporations and others with power against the very right to defend human rights. And it was human rights defenders who bore the brunt of this global attack. 
A new report out last week revealed that in 2019, more than 300 human rights defenders were killed across 31 countries. Unprecedented numbers of activists were also arrested, abused and threatened simply for standing up for what they believe in.
Whether it was humanitarian Dr Scott Warren who faced charges for helping migrants, polish activist Elżbieta Podleśna who faces two years in prison for owning a poster of the Virgin Mary with a rainbow halo, the Amazonian women being attacked for protecting the worlds largest rainforest or the three women in Iran who face 55 years in prison for not wearing veils – the world felt like an increasingly treacherous place for campaigners. 
The combination of mass surveillance, new technology, the misuse of laws and crackdowns on peaceful protests has created additional dangers for human rights activists, with women human rights defenders particularly at risk, facing increased attacks, threats and risks to their lives, including sexual violence, harassment and defamation campaigns, simply because they are women.  
The picture may look bleak for our hard-won rights and for those who work tirelessly to protect them. But there are still so many reasons to have hope.
Last year saw some great wins for humanity both in the UK and around the world. In 2019, hundreds of thousands of people stood up and spoke out for what they believe in. From the landmark legalisation on abortion and equal marriage in Northern Ireland, to the momentous global mobilisation of the children and young people in the Fridays for Future movement, activists all over the UK have galvanised for human rights.
Whilst it is true that many challenges still lie ahead, if there is one lesson that we must take from 2019, it is that no act is too small to make a difference, and if we take the time to look for them, brave individuals are all around us.
Up and down the country, ordinary people with extraordinary passion and determination are making a stand to defend and uphold the rights of others. They are people from all walks of life, with a shared passion and determination for justice and equality.
They are human rights defenders – and they deserve recognition. 
That is why Amnesty International UK, supported by People's Postcode Lottery, has launched the Brave Awards, to make the start of the new decade a celebration of the brave individuals making a positive difference in communities around the UK.
Amnesty is calling on people across the UK to nominate those in their community that are campaigning, volunteering or working on human rights issues, such as women's rights, LGBTIQ+ rights, the climate crisis, justice, equality and much more. 
Without their courage, our world is less fair, less just and less equal. That is why we are calling on everyone to help us celebrate the brave.
Nominations are open until 10 February. So what are you waiting for?