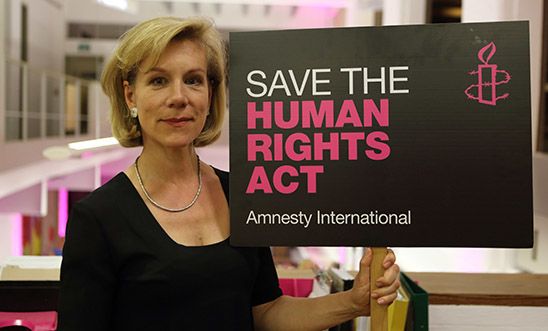 "Amnesty was one of the first NGOs I heard of in my teens – it's always been a light, so I feel proud of any connection with it. How it has sustained its integrity as a trusted and vigilant voice for human rights over the years is amazing."
— Juliet Stevenson
Juliet Stevenson is one of Britain's leading actors. She has worked extensively for the Royal Shakespeare Company, the National Theatre and the Royal Court, winning an Olivier award for her performance as Paulina in Death and The Maiden in 1991. Most recent theatre credits include starring roles in Wings at the Young Vic, Robert Icke's Mary Stuart and Hamlet (both of which transferred to the West End) and of course Beckett's Happy Days, also at The Young Vic.
Her films include Truly, Madly, Deeply; Bend it Like Beckham; When Did You Last See Your Father?; Being Julia; Pierrepoint; Mona Lisa Smile; Diana and Departure. Recent releases include feature film Let Me Go. Recent television work includes starring roles in Williams brothers' thriller One of Us for BBC1 and Sky Living's supernatural thriller The Enfield Haunting as well as playing series regulars on two series of Atlantis and The Village. Other television work includes Place of Execution, The Accused, The Hour, and White Heat.
She was awarded the CBE in 1999. In addition to her Olivier award, Juliet has been nominated a further four times and is five times BAFTA nominated for her film and television work.
Her work with us includes helping us build a giant paper chain as part of a call on the UK Government to stop separating refugee families.
About Amnesty Ambassadors
Amnesty Ambassadors are made up of profile individuals from a broad range of disciplines. Using their profile and networks our Ambassador's allow us to educate, amplify and inspire more and more people to join the fight for human rights.