Giant paper chain and petition calling on UK Government to stop separating refugee families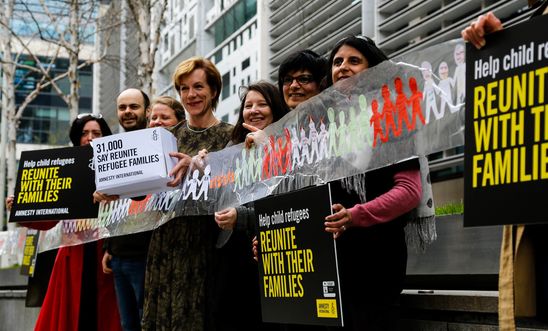 Amnesty International and the Student Action for Refugees (STAR) will be linking the Home Office and the Department for Education with a giant paper chain on Thursday 30 March and presenting a 31,000 strong petition calling on the UK government to stop forcibly separating child refugees from their families.
 
The colourful paper chain featuring cut-out figures of adults and children, made by Amnesty and STAR activists from across the country, will be 240 metres long - the distance between the Home Office and the Department for Education. These two Government departments are due to publish a joint strategy on the safeguarding of unaccompanied child refugees on Monday 1 May.
 
Adult refugees in the UK are entitled to apply for their immediate family members to join them. However, this is not the case for children. The UK is one of only two European countries (along with Denmark) which denies this opportunity for refugee children.
 
Kerry Moscogiuri, Amnesty UK's Director of Campaigns said:
"It is a travesty that vulnerable children who have come to this country, fleeing conflict and persecution, are not entitled to apply for their family members to join them. Many of them are already deeply traumatised and this cruel policy only exacerbates their suffering. We want to send a strong message to the UK Government to change the rules to allow them to be reunited with their loved ones."
Emma Williams, Director of STAR said: "Being reunited with close family is the best way to safeguard child refugees in the UK and this improves their chances of recovery, integration and personal development."
 
The activists will be joined by Amnesty Ambassadors, actress Juliet Stevenson and members of the Kaiser Chiefs band. Their keyboard player Nick 'Peanut' Baines will be photographing the event as part of an ongoing project with Amnesty.
 
Juliet Stevenson said: "I have met many unaccompanied refugee children who have been through the most traumatic of experiences; they are suffering from intense anxiety and are scared and lonely. The UK Government must urgently act to alleviate their suffering. It's not only the moral thing to do; it also makes sense from a policy perspective. Allowing children to be reunited with their close family could save valuable resources in the long run, such as costs for mental health services and foster care."
 
The petition and the paper chain action are part of Amnesty's "I Welcome" campaign, which calls on the UK Government to share responsibility in responding to the global refugee crisis.