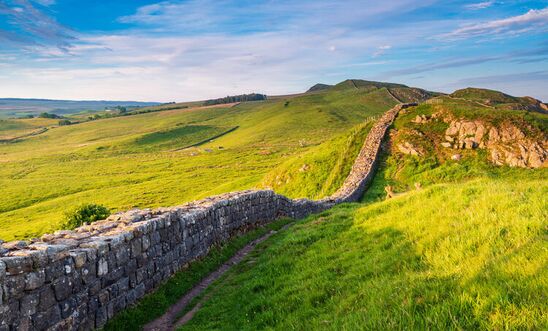 Hadrian's Wall
Stretching from the Solway Firth on the Irish Sea, all the way across England to the banks of the Tyne by the North Sea, this route represents 84 miles of ancient British history. As you trek across northern England, following the wall itself, you'll follow in the footsteps of the Romans who built this magnificent fortification almost 2,000 years ago.
The Hadrian's Wall trek is run by Choose a Challenge and is a team challenge: recruit a group of up to 6 of your friends, colleagues or course-mates as you trek across the width of northern England. 
This trip is inclusive of campsite accommodation, meals, baggage transfers, finishers' medals and more, so all you need to do is focus on the challenge ahead!
Learn more about the Hadrian's Wall Trek
Vital Info
Date: 14th – 18th July (5 day trek)
Distance: 84 miles
Location: Solway Firth across Northern England to banks of the Tyne
Minimum Age: 14 (with parent or guardian), 18 without.
Registration fee: £95
Minimum fundraising target: £950 (charity sponsorship) or self-fund £475 and raise what you can with no minimum target! 
What you'll get
Campsite accommodation (or you can choose to upgrade your accommodation when you register)
Meals as stated in the itinerary
GPS tracking
Route map
Support vehicle & luggage transfer
Exclusive finisher's medal
Comprehensive pre-departure support and advice
Support from Choose a Challenge staff on the trip
24-hour emergency line for use during your trip
Please note these events are organised by Choose a Challenge. Participants raising funds for Amnesty International UK will be joined by others, raising money for different charities. Find out more on the Choose a Challenge website.
Got any questions?
Check out the Hadrian's Wall Trek Itinerary or get in touch:
Email – team@amnesty.org.uk 
Call – 020 7033 1646