Sherry Izadi - 4 April 2022 Meeting Highlights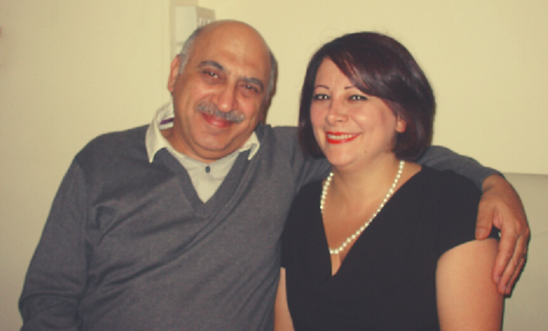 Anoosheh Ashoori with his wife Sherry Izadi.
The Chair welcomed Sherry Izadi to our meeting. When the talk had first been arranged we envisaged a discussion and questions as to how we could support the campaign to secure the release of her husband Anoosheh Ashoori from imprisonment in Iran. That both Anoosheh and Nazanin Zaghari-Ratcliffe had been released, just over a fortnight before our meeting, was therefore an unexpected and very welcome surprise. In recognition of that we were joined by representatives from a number of other Amnesty groups who also wished to 'celebrate'.
Background and political matters
Sherry attributed the release of Anoosheh and Nazanin to the families' decision to go public and campaign. They had done this on behalf of Anoosheh after an appeal in 2019 had been rejected, at which stage they felt they had no choice.  Anoosheh had been arrested in 2017 after visiting his mother. He had done so many times before and Sherry compared his arrest to winning an 'anti-lottery'. Essentially, he had committed no offence and his imprisonment was a lever in relation to the approximately £400m owed by the British Government to Iran for tanks paid for by the Shah but not delivered. Sherry shared the view expressed publicly by Nazanin Zaghari Ratcliffe that their release should have been secured much more quickly and that foreign ministers had been ineffective. She was though, grateful to many of the civil servants she encountered.
Treatment in Prison (Evin, Tehran), release and recovery
Anoosheh had been on two hunger strikes. In the first he had felt he wanted to die, but ceased under threat of imprisonment with ISIS prisoners. The second time was in sympathy with Barry Rosen, a former prisoner in Iran who had started a hunger strike in Vienna in sympathy with prisoners in Iran such as Nazanin and Anoosheh. He was threatened with transfer to another prison and ceased his strike when Barry Rosen ceased his.
Anoosheh had not been allowed to receive post but was able to talk to Sherry on a public phone. At various stages Anoosheh was subject to reprisals and threats: his phone card was taken when his case had been raised with Boris Johnson and he had been threatened with another charge when he raised concerns about health.  
His release had come 'out of the blue'. While Anoosheh was recovering they were still having some difficulties adjusting. Anoosheh still asks for permission to do things and 'waits' for the headcount in the morning. Hostage International (set up by Terry Waite) has helped as has Terry Waite himself. Nobody in the family would now return to Iran or visit the Iranian embassy.
Campaigning
Sherry believed the positive outcomes for Anoosheh had reflected the campaigning and that Amnesty had been one of the main pillars in this - she said she would be 'forever grateful to Amnesty'. She asked that we continue to campaign for Morad Tahbaz and Mehran Raoof, both of whom are dual nationals remaining in Iran.  
She believed effective campaigning had been directed through MPs and the Foreign Office. In particular the British Government is not legally obliged to help citizens abroad - assistance is entirely discretionary. Celebrities were helpful as they could secure an audience and were listened to.
Sherry considered Twitter a very useful tool, citing the case of Kylie Gilbert Moore, an Australian/Iranian dual national released after two years of a ten year sentence following a Twitter campaign which forced the engagement of the Australian government.
The Group and visitors gave their many good wishes to Sherry and Anoosheh and the Chair thanked Sherry for her talk.
Dr Mohammed al-Roken
The Chair updated us on progress with our campaign on Dr Mohamed al-Roken - the campaign of 100 letters/emails to the UAE embassy over 100 weekdays remained in full swing and would finish in June.  He was also able to share the good news that Lyndon Edwards had agreed to be the Group's Campaign Coordinator on Dr al-Roken's case. There was a forthcoming meeting to be led by Paul Dawson (regional coordinator for the Middle East and Gulf) at which those groups (including Sutton) which had adopted UAE prisoners of conscience would seek to develop a strategy.      
Ukraine
There was some discussion about Ukraine and the problems of censorship in Russia with consequent lack of awareness.
The Chair has sent round two petitions (links below) and also mentioned a video broadcast on YouTube by Arnold Schwarzenegger targeted at the Russian people (https://www.youtube.com/watch?v=fWClXZd9c78&authuser=0)
Petition 1 - Amnesty Petition urging Vladimir Putin to stop the aggression and protect civilians in Ukraine
https://www.amnesty.org/en/petition/russia-stop-the-aggression-and-prot…
Petition 2  - Justice For Ukraine - Petition Calling for a Special Tribunal to Prosecute Putin
https://secure.avaaz.org/campaign/en/prosecute_putin_loc/?twi
Please can you share the links with as many people as you possibly can.
Tessa mentioned information getting past the Russian censors through 'embedding' in Restaurant and Film reviews.
Urgent Actions
Our Secretary went through the three cases he had circulated for this month comprising one petition and two urgent actions as follows:
a petition for Nasrin Soutoudeh in Iran. Nasrin is a lawyer in Iran who has defended women on their freedom to dress as they please. Nasrin is listed in Time magazine's 100 most influential women. She now faces 38 years in prison and 148 lashes for her defence work. We are asking for her immediate and unconditional release;
an urgent action requested by Barrie Hay (who was due to speak to the group in March) concerning Yulia Tsvetkova in Russia. Yulia is charged with 'production and dissemination of pornography' for artistic drawings as part of her women's and LGBT rights work. We wrote to the local prosecutor and the Russian embassy demanding all charges be dropped;
an urgent action from the Local Groups briefing in respect of Marfa Rabkove in Belarus. Marfa is volunteer coordinator for Viasna, a human rights group and has been in detention for exposing police brutality following the disputed 2020 elections. Marfa faces several charges and the possibility of a 20 year sentence for doing peaceful human rights work. We wrote to the MInister of Foreign Affairs and the Prosecutor General in Belarus and also the Belarus' embassy in London asking for Marfa's immediate and unconditional release.
We have completed a number of urgent actions since the meeting including:
a follow up on Marfa Rabkova whose trial was due to start
to stop the execution of Melissa Lucion in USA (it has been stayed)
to prevent the deportation from Morocco to China of Idris Hasan, a Uyghur Muslim
against the Slovenian strategy of policing costs being paid by peaceful protesters
two cases representing the start of executions in Singapore (one sadly proceeded but the other has been stayed)
three separate Iranian Urgent Action cases with common themes of risk of execution, torture and unfair trials and disregard for health problems.
Thank you to everyone who has contributed to these.
Social Media report
Since the Sutton Amnesty Twitter account was activated last October, approximately 420 tweets or retweets have been posted on behalf of the group.
Government officials have been tweeted or tagged in 40 countries (from a total of 196). Tweets have urged the release of prisoners of conscience and human rights defenders, the stopping of torture and disappearances, the halting of imminent executions, the abolition of the death penalty and fair treatment for refugees and asylum seekers. Other themes included actions on International Human rights Day, International Women's Day and on the complete rethink of the proposed UK Nationality & Borders Bill.
The main countries repeatedly tweeted on were the United Arab Emirates (for our own Dr Mohammed al-Roken case), Saudi Arabia, Ukraine, Russia, Belarus, Myanmar, China (and the Uyghurs), Iran (and the British / Iranian nationals such as Nazanin Zaghari-Ratcliffe and Anoosheh Ashoori), Afghanistan and Egypt.
Other countries targeted were Algeria, Bahrain, Cambodia, Croatia, Eritrea, Ethiopia, Greece, Guatemala, Guinea, Haiti, Hong Kong, India, Indonesia, Japan, Kazakhstan, Mexico, Morocco, Nicaragua, Nigeria, Pakistan, Poland, Singapore, Sudan, Syria, Thailand, Turkey, United States, Venezuela, Vietnam and Yemen.
In November 2021 the group participated in a "Twitter Storm", sending 10 tweets to UAE government officials in the space of one hour, in synchronization with other Amnesty groups doing exactly the same thing.
As of 4th April 2022, the group has posted 156 times on Facebook and 58 times on Instagram, mirroring the countries and themes described above.
One interesting point came from Sherry Izadi, our speaker at April's meeting, who said she thought all the Amnesty social media pressure definitely helped put pressure on the UK government to work on freeing her husband, Anoosheh Ashoori, from jail in Iran.
The more group members are able to post, the greater the pressure we can apply on governments around the world. So for anyone still not familiar with social media, we hope to give a demonstration of how to post on these platforms in the near future – please stay tuned!
Future Events
We have an increasing number of potential events and volunteers are very welcome/needed where indicated below. Those on the list at the moment are:
Local Groups supporting UAE cases on 4 May (Lyndon and Graham)
Parliamentary Lobbying (Barbara attending a meeting in Westminster as guest of Croydon Amnesty who are meeting Sarah Jones Labour MP for Croydon Central)
Forty five minute letter writing session on 4 June at Liberal Democrats event (Graham and Siddhi - one more volunteer would be good)
Session at Jubilee Event in Manor Park on 3 June. The event runs from 10am to 5pm so the more volunteers we can get, the better
In addition we have our own meetings
9 May:  Kolbassia Haoussou will talk about his own experiences of surviving imprisonment and torture in Chad, and his outstanding work with Freedom From Torture and Survivors Speak OUT.
6 June: Barrie Hay will speak to us about Russia, Belarus and Ukraine the countries for which he is Amnesty's Coordinator.  
We are also exploring the idea of a social to enjoy one of these 'later and lighter' evenings.
View latest posts