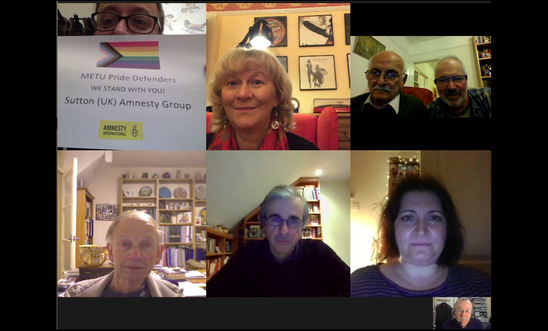 Amnesty International Sutton Group (December 2020)
Welcome to the Amnesty International Sutton (London) Group
We are a diverse, friendly and active group of Human Rights activists, who meet regularly to campaign on, and discuss, a variety of issues. Compiled mainly, but not exclusively, of Amnesty International members, new members are always very welcome. Why not join our Sutton group, and become a voice for the silenced and the oppressed?
For information on joining our group, please contact our secretary.
Latest news on forthcoming meetings and events can be found here.
Our Meetings
We meet on the 1st Monday* (2nd if the 1st is a bank holiday) of each month, except August, from 8pm-10pm. We normally meet in the Library of the Friends Meeting House, 10 Cedar Road, Sutton SM2 5DA, just a few minutes walk from Sutton Station. However, during the covid pandemic, the meetings are being held virtually on zoom until further notice.
* Please confirm with our secretary.
New members are sent detailed instructions on how to get to the meetings.
In the meeting we generally have a:
Visiting speaker or trainer.
DVD on a relevant human rights subject.
Discussion led by one of the group.
Each meeting also contains a short letter writing session. That way we can go away feeling we have made a positive contribution to Human Rights as well as talking about issues. The meetings are held in a relaxed atmosphere - and normally include snacks, tea and coffee.
During the year we organise campaigning events in Sutton High Street, have a stall at the local annual Environment Fair as well as occasional fundraising initiatives.
We hope to see you at one of our meetings or events soon!
Group Campaigns
Letter-writing remains our core activity, and the group currently subscribes to and works on the following Amnesty campaigns and networks:
Country (Region)
Columbia, Brazil (South America)
Turkey (Europe)
Russia (Former Soviet Union)
Belarus, Moldova, Ukraine (Former Soviet Union)
Burma/Myanmar (South East Asia)
Israel, Occupied Palestinian Territories, Lebanon (Middle East &  Gulf)
UAE, Iran (Middle East & Gulf)
Nigeria, Gambia, Sierra Leone (West & Central Africa)
Algeria, Libya, Egypt, Morocco, Western Sahara, Tunisia (North Africa)
 
Urgent Action Network
Children's Human Rights Network
Amnesty Feminists (formerly Women's Action Network)
The group is also working long-term on the case of Dr Mohammed Al-Roken, a human rights lawyer from the United Arab Emirates.
Brief History
Adrian Esdaile, then Vicar of Hackbridge, founded the Sutton branch in 1975 following an appeal, with meetings being held at his vicarage.
Members from his church, together with members of the Sutton Friends group, started work on the case of Genaro Garcia Rodrigues, a Peruvian peasant leader imprisoned for demanding better working conditions. After a period of sustained letter writing to the Peruvian authorities, the group was able to help secure Genaro's release in 1979.
For the first few years of the Group's existence there were separate sub-groups in Hackbridge and Sutton. Margaret Appleyard, another original founder member, recalls that a new connection was established with members of St. Elphage's RC church in Wallington, resulting in all the sub-groups merging together as one in 1980.
The bigger group started to work on the case of Carmelo Lopez in Uruguay. A former Major in the army, he was imprisoned for belonging to a political party that believed in democratic government. He was finally released following a five-year campaign by the group.
The then Secretary, Joe Canning, remembers sending a newspaper article published in the Wallington Advertiser (13 January 1983) to Carmelo's wife. She replied that that it "had brought great comfort to her husband to know that people far, far away were concerned for his safety."
Over the years, the group has worked long-term on the cases of Taison Ndlovu  (Rhodesia), Mourad Faili (Iraq), I. Bhardawaj (India), Gunther Pflenzel (East Germany), Chaudhry Mohammad Hanif (Pakistan), Paschalis Vafiades (Greece), Nuksie Mononi (South Africa), Yassim Ali Ashur (Saudi Arabia), Hassan Abdullah Hassan (Somalia), Jayasiri Bandara (Sri Lanka), Alfonso Chanfreau (Chile), Chief Moshood Abiola (Nigeria) and Kadhum Ridha Al Sarraj (Iraq).
In 1988 the group investigated the case of an ethnic Turk called Dzumaziye Turgutova, who was living in Bulgaria. She had been imprisoned for refusing to accept a new Bulgarian name, which was being forced upon her by the Bulgarian authorities. Members of the group applied pressure in the form of letters, petitions, the involvement of local MP's such as Nigel Forman and also telephone calls to the Bulgarian Embassy in London, with a surprising degree of success! Members of the group met the Bulgarian Charge D'Affaires at the Embassy, who denied that the prisoner ever existed. However a complete U-turn was not far away as good news was heard from the Bulgarian authorities. Dzumaziye, her husband and son were finally set free!
The group also took on the case of another prisoner, this time a 40-year old schoolteacher from Zambia called Faustino Lombe. Within 6 months, Faustino was set free. He later wrote, "Truly, I have derived a lot of strength, comfort and joy at the realisation that somewhere far away there are people who are thinking and praying for me. Thank you very much for everything you have done to facilitate my release. I was released on 25th May, 1988 due to the international pressure that you and through you many people applied on the system."
However the pinnacle of our work was the case of IIker Demir. Ilker was a Turkish journalist who had written articles in 1979 for a socialist magazine, which at that time was perfectly legal. Unfortunately for Ilker, the Turkish authorities decided to ban the articles after the military coup in 1980!
Ilker was jailed in 1984 for 42 years, was held in solitary confinement for two years and was frequently tortured. The group regularly raised Ilker's case with their MP's from Sutton and from Carshalton, as well as with their MEP. A group member also had appointments with senior diplomats in the Turkish Embassy. This, together with the pressure of some 20,000 letters from many Amnesty groups finally told, and Ilker was released in April 1991.
The Sutton group had considerable personal communication with Ilker and engaged in vital "aftercare" work on his behalf. The group were lucky enough to meet him when he came to study English in London. He spoke of great hardship but also took great pleasure from his many "friends" who had written to him whilst he was in prison.
This case illustrates the real strengths of an Amnesty group: raising the public's awareness of each case through publicity and write-a-thons; pressuring government authorities through persistent letter-writing; lobbying of MP's and MEP's, and finally visits to the appropriate embassies in London.
March of 1998 saw a major event in the history of the group. In conjunction with Sutton Council a plaque was unveiled close to Peacocks in Sutton High Street by the Mayor of Sutton, to commemorate the 50th anniversary of the United Nations Universal Declaration of Human Rights. Also lending support that day were MP's Tom Brake and Paul Burstow. In a moving ceremony, chair Colum McAndrew and the group reminded locals of the names of 15 victims of human rights abuses from countries all over the world that the group had worked on over the years.
During 1988 Sutton Amnesty began to expand, thanks to Amnesty's increased profile nationally. "Write-a-thons" became a regular feature in Sutton High Street, which helped increase membership.
Monthly meetings attracted around 20 to 30 active members regularly, with many more participating in our campaigns and fundraising. Because of the increased size, the group were no longer able to meet in people's homes, but instead met centrally in a public hall in Wallington, and more recently in Sutton.
The group also participated in Amnesty various campaigns against torture, rendition, disappearances, extrajudicial executions, refugees, the death penalty, the arms trade, and campaigns for women's and children's rights, whilst continuing to work on the cases of individuals. Every December the group also participates in the Write For Rights Campaign (formerly known as the Greetings Card Campaign), where members are encouraged to write directly to prisoners of conscience, to give them hope and to tell them they are not forgotten.
We run about half a dozen write-a-thons per year, drawing attention to these campaigns and many others. The response from the public in Sutton was very encouraging. Stories covering these campaigns and other Sutton Amnesty work appeared more regularly in local newspapers, thanks to our persistent publicity team! Even national television took an interest in what we did. In April 1990 ITV broadcast an 8-minute documentary devoted entirely to Sutton Amnesty, in its "A Time to Care" series. This programme was markedly upbeat in its message and featured the case history of Bulgarian Dzumaziye Turgutova, as well as our work on the Children's Action Network.
For several years, members of the group also manned the telephone lines at the BBC in connection with the Prisoners of Conscience programmes shown on BBC2.
We also forged useful links with other sympathetic organisations such as The Body Shop, Sutton Council, and local schools and churches who can help us in our campaigning and fundraising activities.
The covid pandemic forced the group to meet online in 2020 and on into 2021. But we were still able to celebrate Amnesty's 60th anniversary by hosting a well-attended zoom reunion party with our Turkish ex POC, Ilker Demir. Coincidentally it was the 30th anniversary of Ilker's release, and we were fortunate enough to be able to reunite with members of other Amnesty groups that helped free him.
Sutton Amnesty is currently working on the case of Dr Mohammed Al-Roken, a prominent human rights lawyer and professor of constitutional law in the United Arab Emirates (UAE).
Why not join our Sutton group, and become a voice for the silenced and the oppressed? We are a diverse, friendly and active group of human rights activists, who meet regularly to campaign on, and discuss, a variety of issues. New members are always very welcome!
A full version of our Sutton Amnesty History can be seen here.
Please click the button "Back to Sutton" below to find out the latest information on our upcoming meetings, events and other posts.